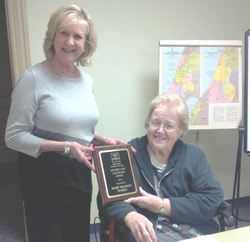 I am delighted to honor charter board member, Mary Frances Duren, for her work on behalf of individuals living with disabilities.
Jessup, Georgia (PRWEB) February 24, 2015
Easter Seals Southern Georgia Executive Director, Beth English, presented the Mildred Huie Leadership award to Mary Frances Duren at the recent Board of Directors meeting in Jesup.
Mrs. Duren was selected to receive this award based on her efforts to establish a Sunday school class for adults with disabilities at the First Baptist Church of Jesup. She also helped to establish a respite night for families who have a child with a disability and their siblings at the church. On every third Friday night from 6:00 PM - 8:30 PM, Mrs. Duren and other volunteers accept babies, children, and teenagers into the respite program. During the summer, the program extends to Vacation Bible School. The group also provides school supplies in August.
For more information about these programs, please call the First Baptist Church of Jesup at (912) 427-4239.
Easter Seals Southern Georgia creates solutions that change the lives of children, adults and families with disabilities or special needs by offering a variety of programs and services that enable individuals to lead lives of equality, dignity and independence. For more information, visit us online at http://www.southerngeorgia.easterseals.com or call 912-283-4691.