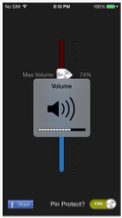 MUKILTEO, WASHINGTON (PRWEB) February 16, 2015
iOS App "Volume Sanity" announces the release of its latest upgrade. Available on February 13, 2015, the new upgrade allows users to choose headphones or speakers individually.
iPads and kids often go together, too bad a side-effect of that combo is "noise", and a lot of it. It used to be just music that would be turned way-up, but now it's also YouTube Videos, Apps and Video Games. Many devices do not even have a Volume Limiter for video games. This has created situations in many homes of intolerable levels of sound that reverberate throughout the house. An App called "Volume Sanity", by Coin Development, LLC., has just been upgraded to include even more unique features. Described as the answer to out of control volume settings and hailed as a great App for Autism, this App has helped countless parents regain control over the amount of noise they have to live with. Kids like to crank-up the, it doesn't matter why, it's just very annoying. The beauty of this App is its simplicity. It simply works.
Parents no longer have to yell at their kids to turn down the volume. "Volume Sanity" will allow users to set the level of volume desired, and can even be Pin protected so that the kids can't change it back to their level. Fantastic app for children with Autism or Down Syndrome - Many parents of kids with special needs have been extremely happy with the results they have achieved with this App. The App was recently updated in November of 2014. Several Bug Fixes were accomplished, along with iPhone 6/6 plus compatibility and iOS8 compatibility. The size of the App is 1.6 MB and requires iOS 5.0 of later. Compatible with iPhone, iPad, and iPod touch. This app is optimized for iPhone 5.
This unique App is the only App in the world that allows for volume limiting on the iPad. Part of the recent upgrade allows users to set the device so that only the headphones will be functional, but the speakers will remain silent. Imagine being able to silence the speaker, that's called peace of mind. The author of the App had this to say during a recent interview: "I built this App to scratch my own itch, but after seeing thousands of other parents having this same problem and all of the super positive feedback - it now has just become something that makes me feel really good that I was able to help being some sanity back into the homes of these people."
For complete information, please visit: The "Volume Sanity" App
Coin Development LLC.
Attn: Media Relations