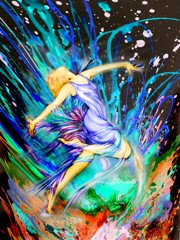 I transform the energy of one's favorite song into a wild and energetic abstract painting
St. Louis, MO (PRWEB) February 13, 2015
Raising the world's happiness quota one product at a time, iconic artist, Joan Marie, launches new products and a new brand for the industry that makes her heart sing.
After selling millions of dollars worth of licensed product, Joan Marie has reinvented herself with a unique style that unites the explosive energy of her abstract art with the passionate detail of her classically trained paintings. Joan's electric style draws a wide audience from tweens to spirited adults and includes many themes she has successfully created before, including birds, owls, wolves, wild cats and her breathtakingly sensuous women.
"I am thrilled to launch my new products at Licensing Expo this year," said artist Joan Marie. "I already have interest from manufacturers I worked with 25 years ago, and timing is right to bring more color, light and joy back to store shelves."
A recognized brand for decades, Joan Marie began her licensing career nearly 25 years ago when she sold millions of products with her images on stationery, back-to-school, wall art, gift and novelty items around the world. A few of her largest licensees included The Hamilton Collection, Air Waves Inc., and the American Puzzle Company.
A prolific artist deeply driven to express the joy she feels about life, Joan Marie's art has evolved through several successful styles. Early in her career she sold realistic and classic technique oil paintings, both originals and through licensing. Then her gallery success and commissions continued through a 'purely abstract' season.
Her ecstatic enthusiasm is contagious and palatable. Customers are attracted to her vibrant and expressive style. Live audiences and YouTube viewers love watching her painting process, if one can call it that. It's more like a spirited dance as the animated explosion of colors takes to the canvas.
"I transform the energy of one's favorite song into a wild and energetic abstract painting," shares Joan Marie.
New manufacturers who are looking to license Joan Marie's contemporary and sophisticated designs and palette will find plenty of new art to choose from. Some of the collections are available on her website, http://www.joanmarieart.com, and more will be launched at her Licensing Expo debut in Las Vegas this June. Known as enthusiastic and cooperative, Joan Marie is dedicated, driven and prolific.
CONTACT for licensing - Joan Marie, 835 Country Heights CT, Ballwin, Mo. 63021. Tel- 636-207-7834. Email- JoanmarieArt(at)charter(dot)net . Website- http://www.joanmarieart.com