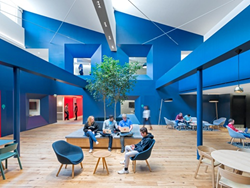 LOS ANGELES (PRWEB) February 17, 2015
Noted architect and Woodbury University educator Barbara Bestor, AIA, has received a 2015 National Honor Award for Interior Architecture from the American Institute of Architects (AIA), the university announced today. AIA judges variously described the winning design, for the Culver City, California headquarters of Beats by Dre (http://www.aia.org/practicing/awards/2015/interior-architecture/) as "warm," "inviting," "hip," and "energizing."
Bestor is the executive Director of Woodbury's Julius Shulman Institute and founding chair of the graduate program at the School of Architecture. She is the principal and founder of Bestor Architecture, where she has developed a varied, creative and aesthetically progressive body of work over the last ten years. Her work advocates for an architecture that is a part of all aspects of our creative community.
The AIA's Institute Honor Award for Interior Architecture acknowledges outstanding building interiors, praising Bestor's work for its "strong organization and design concept that has created a powerful combination of interesting spaces" Among other comments from the jury: "The space feels warm and inviting — a place where we would like to work" and "the design also seems to energize the staff in a relaxed atmosphere. We love the young, hip vibe — the design is not over the top and could be relevant for a long time."
"The design challenge of this project," the AIA noted, "… was to develop a scheme that could accommodate working environments for three CEOs, executives, and 600 employees across more than a dozen departments, ranging from software (music) to hardware (electronics). Bestor Architecture… created an interior saturated in deep blue and red paint, custom-designed wallpapers, and warm woods. The goal was to design a light-filled, comfortable, cutting-edge environment… All of the work spaces—from cooperative work zones to white boards and the café—are designed to encourage interaction and contact across departments."
"Barbara Bestor's career at Woodbury and in the wider world has been a brilliant blend of artistic vision, grounded-yet-innovative design and inspirational teaching," said Norman Millar, Dean of Woodbury University's School of Architecture and a past winner of an AIA Award. "We congratulate her on this much-deserved recognition and look forward to continuing the educational and artistic journey with her.
"I am thrilled by this honor, which will serve as an inspiration for future projects," Bestor said. "My experience at Woodbury has been an integral part of how I practice my craft, and I share this award with all the students, staff and partners who have been so supportive along the way.
'We are pleased the AIA recognized the design of Beats By Dre, which was the result of a collaborative effort," she said. "We hoped to use space and environmental design to make Beats the best place to work in L.A., and we are pleased that Beats By Dre was recognized by the AIA as both cutting edge and very comfortable, with a humanistic environment for the people who work and visit there."
Bestor Architecture, founded in 1995 is a collaborative firm that produces modern designs that navigate between pop culture, art and architecture, with recent projects including custom homes, commercial spaces, art environments and graphics. The firm's manifesto --"Everyone should experience strange beauty every day" -- is in evidence in the Beats by Dre project, with its bold design that mixes bright reds and blues with warm woods in a versatile, open and inviting space.
Bestor is the Julius Shulman Distinguished Professor of Practice at Woodbury University and has also served on the faculty at UCLA, Harvard University and the Southern California Institute of Architecture (SCI-Arc). She is the author of Bohemian Modern: Living in Silver Lake (Harper Collins, 2006) and holds a MArch degree from SCI-Arc and a bachelor's in Visual and Environmental Studies from Harvard.
About Woodbury University
Founded in 1884, Woodbury University is one of the oldest institutions of higher education in Southern California. Woodbury offers bachelor's degrees from the School of Architecture, School of Business, School of Media, Culture & Design, and College of Transdisciplinarity, along with a Master of Arts (MA) in Media for Social Justice, Master of Architecture (MArch), Master of Interior Architecture (MIA), Master of Science in Architecture (MSArch), and Master of Leadership. The San Diego campus offers Bachelor of Architecture and Master of Architecture degrees, as well as an MSArch degree with concentrations in Real Estate Development and Landscape + Urbanism. Woodbury ranks 15th among the nation's "25 Colleges That Add the Most Value," according to Money Magazine. Visit http://www.woodbury.edu/ for more information.