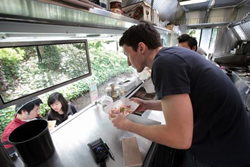 Allenhurst, NJ (PRWEB) February 16, 2015
The New Jersey Department of Environmental Protection is looking for food truck vendors to be stationed at Island Beach State Park this summer. Preferred applicants are vendors who can provide high-quality food daily as well as healthy menu choices. According to a press release published by the DEP, the purpose is to make state parks more self-sustaining.
The initial term for food services is 10 years. Successful bidders may renew for a second term. Vendor stations will be located at the main pavilion at Ocean Bathing Area 1 from Memorial Day weekend through Labor Day weekend and Ocean Bathing Area 2 from the third weekend in June through Labor Day weekend.
A mandatory pre-bid meeting and site visit will be held on Tuesday, February 17th at 11:00 am. The deadline for submitting proposals is March 19th at 5:00 pm.
For more information, visit the DEP's website at http://www.nj.gov/dep/newsrel/2015/15_0013.htm.
About Bielat Santore & Company
Bielat Santore & Company is an established commercial real estate firm. The company's expertise lies chiefly within the restaurant and hospitality industry, specializing in the sale of restaurants and other food and beverage real estate businesses. Since 1978, the principals of Bielat Santore & Company, Barry Bielat and Richard Santore, have sold more restaurants and similar type properties in New Jersey than any other real estate company. Furthermore, the firm has secured in excess of $500,000,000 in financing to facilitate these transactions. Visit the company's website, http://www.123bsc.com for the latest in new listings, property searches, available land, market data, financing trends, RSS feeds, press releases and more.