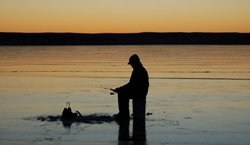 Toms River, NJ (PRWEB) February 17, 2015
Despite the frigid temperatures blasting the Jersey Shore area this week, many outdoor enthusiasts think it's the perfect opportunity to grab their fishing poles. The cold air is ideal for those who enjoy ice fishing, where the recommended minimum thickness of ice surfacing the water is four inches. Check out the ponds and lakes located near Surf & Stream Campground that are popular fishing locations.
Lake Assunpink is located in Monmouth County, New Jersey near Millstone. The 6,300 acre park includes man-made lakes, wood roads and access to uplands and open fields. A prime area for ice fishing, visitors also use the trail for hiking, mountain biking and XC skiing. Guests can have a relaxing day at the new fishing pier at Atlantic Highlands Municipal Harbor in Atlantic Highlands, New Jersey. Known for deep sea fishing, the harbor also features restaurants, tennis courts, charter boats and other outdoor activities for the warmer months.
Surf & Stream Campground has RV and cottage sites available all year round. Visit their website to make a reservation at http://surfnstream.com/. For more information on fishing in New Jersey, go to http://www.visitnj.org/article/fishing-new-jersey.
About Surf & Stream Campground
Surf & Stream Campground is a family-friendly RV park located near all of the most popular beaches at the Jersey Shore. The campground includes a full-size swimming pool, picnic area, activities for all ages, weekend events and more. For more information about Surf & Stream Campground, visit their website at http://www.surfnstream.com or call 732.349.8919.