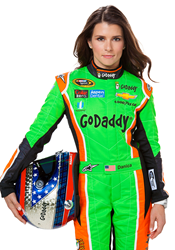 Safety and comfort are important to me, I want to wear the best.
Aliso Viejo, Calif. (PRWEB) February 13, 2015
Schuberth is proud to announce it has renewed its 3-year partnership with Danica Patrick. The Schuberth SF1 is Patrick's helmet of choice, and she will don the helmet as she competes in the 2015 NASCAR Sprint Cup Series and other racing efforts through 2017.
"We are proud that Schuberth is once again the helmet of choice for Danica Patrick in her Sprint Cup efforts," says Randy Northrup, Vice President of Schuberth North America. "Schuberth has provided head protection for top-level Formula 1 and IndyCar drivers for more than a decade, and our dedication to continual innovation sets Schuberth apart as the most technologically advanced helmets available."
Patrick's SF1 race helmet is the culmination of more than 70 years of Schuberth head protection technologies, and has been worn and proven by drivers such as Felipe Massa, Fernando Alonso, Nico Rosberg, Susie Wolff, Nick Heidfeld and Townsend Bell, and Schuberth was recently named official team supplier of Mercedes AMG. The Schuberth SF1 features an all new face shield, giving the driver a class 1 optical view.
"Safety and comfort are important to me, I want to wear the best," Patrick said. "Schuberth is number one in safety so the choice was clear." Patrick will compete in the NASCAR Sprint Cup Series for the fourth year in a row. Sprint Cup racing kicks off this weekend with the Sprint Unlimited at Daytona International Speedway.
Learn more about the Schuberth SF1 and Schuberth's auto racing efforts at http://www.SchuberthNorthAmerica.com. Join the Schuberth community online on Facebook, and follow @SchuberthNA on Twitter. You can also connect on Instagram and YouTube.
About Schuberth GmbH: The German helmet manufacturer Schuberth has been developing and producing high-end head protection systems for over 90 years. With a multitude of innovative products, the company ranks among the world's leading manufacturers of motorcycle, Formula 1 and motor sport helmets as well as head protection for innovative solutions in industrial safety, fire fighting, the police and the military. The experience gained in particular from Formula 1, the pinnacle of motor sports, constantly provides fresh impetus for product developments that set the benchmark for head protection systems.
About Schuberth North America: In 2010, Schuberth GmbH opened the North American sister office in Aliso Viejo, California and continues to grow its exclusive dealer network for motorcycle products in the U.S. and Canada. Additional business segments work directly with law enforcement departments on the motor officer and crowd control products and with IndyCar and NASCAR teams on the auto racing helmets. In 2014, Schuberth North America also assumed U.S. distribution for German apparel and glove manufacturer Held.