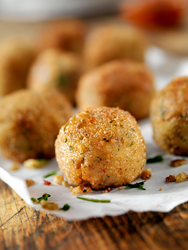 When friends gather in front of the telly to watch the red-carpet arrivals, serve dishes you'd find at an A-list extravaganza, not the corner bar.
CHICAGO, IL (PRWEB) February 16, 2015
No one wants their Academy Awards get-together to be just another ho-hum night. The Oscars celebrate glamour and creativity – and a party menu should too. Celebrity chef Mrs. Ruby Tips makes it easy with recipes inspired by this year's Best Picture nominees.
"Wings and nachos were perfect for your recent Super Bowl party, but they just won't do on Oscar night," Ruby said. "When friends gather in front of the telly to watch the red-carpet arrivals, serve dishes you'd find at an A-list extravaganza, not the corner bar. Let's have some designer food to go along with those designer dresses."
Here are Ruby's suggestions for Oscar night 2015:
"American Sniper" – American Snapper
Party guests will set their sights on this fresh snapper steeped in a marinade of red onions, tomatoes, red bell peppers, lime juice, and cilantro.
"Boyhood" – Double Piggies in a Blanket
The main character in "Boyhood" may have grown up before our very eyes, but that doesn't mean we should. Combine two age-old favorites – hot dogs and ham sandwiches – in a double pig in the blanket.
"Birdman" – Birdman Cordon Bleu
This revamped Chicken Cordon Bleu recipe featuring ground chicken, parsley, and Swiss cheese can be made ahead of time and is easy to pass around on a serving plate.
"The Grand Budapest Hotel" – Grand Budapesto Pasta
Spaghetti, basil, pine nuts, garlic, and extra-virgin olive oil combine for a crowd-pleaser that is quite easy to prepare.
"The Imitation Game" – Imitation Crab and Cucumber Salad
Imitation crab, ketchup, mayonnaise, cucumber, Worcestershire sauce, lemon juice, and garlic served as "salad bites" on spoons.
"Selma" – Pecan-Crusted Chicken
With a nod to a sweet Southern tradition and one of Dr. Martin Luther King Jr.'s purported favorites, pecan pie, Ruby created a party-style finger food, coating chicken tenders with pecans and honey to yield a sweet, crusty delight.
"The Theory of Everything" – Spice-of-Life Curry
Stephen Hawking has said that his favorite food is curry, and this spicy mélange of chicken chunks and curry sauce will certainly turn up the heat on any party.
"Whiplash" – Jazzy Chicken Drumsticks
Percussion and drumsticks go hand-in-hand, so Ruby created an Asian-influenced drumstick marinade that includes pineapple juice, brown sugar, rice vinegar, fresh grated ginger, soy sauce, and garlic. Boom.
Full recipes are available on MrsRubyTips.com.
About Ruby Tips
Blend Julia Child, Graham Kerr and Betty White, and what comes out is a cooking show personality who is a welcome throwback to a gentler era of food programing. Mrs. Ruby Tips is a seasoned sexagenarian and self-taught chef who cooks with passion and a dash of humor. She brings the fun back into cooking through video segments, recipes, and solutions for culinary kerfuffles. Her platform is wide, extending across social media and at MrsRubyTips.com. Ruby is a contributor to "Parade" and "Relish" magazines, which allows her to reach millions of entertainment and food enthusiasts across the country.