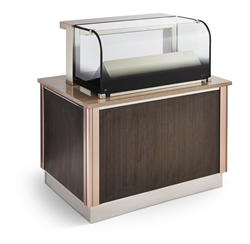 We're putting a focus on the development of industry first products that help today's foodservice operators outperform.
Sheboygan, Wis. (PRWEB) February 16, 2015
Driven by constant market demand for innovative products that help foodservice operators elevate guest experiences, the Vollrath Company, a foodservice industry leader in smallwares and equipment, will be showcasing new and updated products at the Experience Vollrath exhibit during the 2015 North American Foodservice Equipment Manufacturers Show in Anaheim, Calif., Feb. 19-21.
New, updated and existing products that fit within the Experience Vollrath concept will be on display at the company's exhibit, booths #3020 and #3220, during the 2015 NAFEM Show at the Anaheim Convention Center. Experience Vollrath is the company's new focus on five of the key factors that elevate Vollrath products: ingenuity, elegance, convenience, freshness and customization.
"We're putting a focus on the development of industry first products that help today's foodservice operators outperform," said Paul Egbert, vice president of marketing at Vollrath. "The new Experience Vollrath concept focuses on the key areas of product differentiation that position us as a leader in the industry."
Among Vollrath's products showcased will be the feature of the show, the award-winning Downdraft Vent Module.
Experience Vollrath and the Downdraft Vent Module at NAFEM 2015
At the 2015 NAFEM Show, the Vollrath Company will showcase the newly certified Downdraft Vent Module, a first-to-the-market, front-of-the-house cooking station with fire suppression and containment that meets UL, NSF, NFPA96 and EPA Method 202 requirements.
With the rise in popularity of presentation cooking, Vollrath saw a demand for front-of-house cooking stations that are functional, aesthetically pleasing and meet current fire safety standards.
"Our customers wanted a product that would allow them to showcase their culinary talent in an elegant, effective and ultimately safe way," added Egbert. "The Downdraft Vent Module embodies Experience Vollrath by giving our customers an opportunity to provide their guests with a unique and memorable dining experience."
Vollrath's Downdraft Vent Module offers up to two energy-efficient induction cooktops that include a downdraft venting system, integrated fire-suppression system and fire-containment food shield. These features are housed in either a Vollrath V-Class or Signature Server® base. The module is available with several countertop options, including stainless steel, custom color laminate, Corian® solid surface or quartz. The module is also available in hundreds of base colors.
Recipient of the 2014 Kitchen Innovations (KI) award, the Downdraft Vent Module is a great example of the Experience Vollrath concept, showcasing the company's ingenuity, customization, elegance and more.
Additional Vollrath Products at NAFEM
Continuing the Experience Vollrath concept are three additional products that will be featured heavily during NAFEM 2015, including the new Mirage® Buffet Induction Warmers, Forced-Air Cold Modular Drop-Ins and new Vacuum Pack Machines.
The Mirage® Buffet Induction Warmers, the second induction warming product Vollrath has brought to market after last year's first-to-market Induction Soup Warmers, provide best-in-class features, including precise temperature control, inter-connectivity of up to three units, low wattage power use, touch control with four power settings and LED indicator lights on the control panel and glass. All of these features come in a subtle, low-profile, attractive design that integrates seamlessly with any serving set-up to elevate the appeal of the buffet ware and food.
The company will also highlight the Forced-Air Cold Modular Drop-in, a perfect addition for showcasing and serving cold foods. The dual-sided forced air cold system creates a more uniform distribution of cold air to prevent freezing and food waste while maintaining the fresh appeal and vibrant colors of salads and other cold menu items. It features low velocity air and an above-counter intake and also works well with other Vollrath drop-ins.
Lastly, the Vollrath Company will feature its industry leading Vacuum Pack Machines. These new models feature best-in-industry Busch vacuum pumps and come in three different models. Vollrath's versatile Vacuum Pack Machines help extend the shelf life of foods and help cut down on waste due to spoilage. They are also a perfect complement to any sous vide cooking system.
In addition, Vollrath Company will have several other new and existing products on display as part of the Experience Vollrath exhibit. The 2015 NAFEM Show will take place from Feb. 19-21 at the Anaheim Convention Center in Anaheim, Calif. For more information on Vollrath's product offerings, visit http://www.vollrath.com. For details on the 2015 NAFEM Show, visit http://www.thenafemshow.org.
# # #
About Vollrath Company
The Vollrath Company, based in Sheboygan, Wis., has a reputation for the design, development and manufacture of the foodservice industry's finest smallwares and equipment. With a collection of exceptional people, industry leading products, and helpful consultative services, Vollrath is assembled for one purpose—to advance the art of hospitality. For more information about The Vollrath Company, its products, facilities in the US, Europe and Mexico, and the 19 foodservice industries it serves, visit http://www.vollrath.com or search "Vollrath" on Facebook or Twitter.