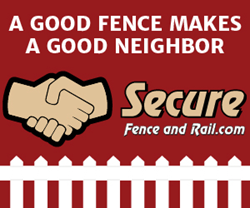 "I grew up playing Little League. It's something that I've done. I'm a believer, I think it helps the kids out."
Port St. John, FL (PRWEB) February 16, 2015
The team at Secure Fence and Rail will be rolling up their sleeves and stepping up to bat for the Port St. John Little League on Saturday, February 21, 2015. Approximately ten members of the Secure Fence and Rail crew along with family members of the Little League players will be onsite at 662 Canaveral Groves Blvd., Cocoa, FL 32926, working together to install brand new bleacher covers for the safety and comfort of Little League spectators.
After just a year and a half of being in business, the team at Secure Fence and Rail is taking on their first big community project. Owners Bobby and Vikki Jacobs along with their new business partner Sam Pomerleau had been looking for the right opportunity to get involved when Port St. John Little League President Tracy Jones and Treasurer Lisa Pollard approached them for help.
When Bobby Jacobs ventured out to the fields to assess the project needs, Jones and Pollard were not expecting him to donate the labor and materials required to complete the much-needed improvements. Secure Fence and Rail will be providing the resources required to install a total of ten bleacher covers for five of the Little League's fields. The bleacher covers are made of galvanized steel and windscreen, and are intended to protect spectators from the elements while enjoying the games.
The project is estimated to take a full day to complete, but the crew is prepared to give another day should the project warrant more hours. When asked about why he felt compelled to donate his time and resources to this particular project Jacobs said, "I grew up playing Little League. It's something that I've done. I'm a believer, I think it helps the kids out."
The Secure Fence and Rail crew looks forward to giving back to the Central Florida community that has already given them so much during their first year and a half of business.