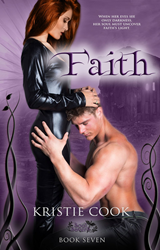 An exciting and fascinating fantasy of demons and angels, highly recommended - Midwest Book Review
Manning, SC (PRWEB) February 16, 2015
The highly anticipated release is finally here. Author Kristie Cook has written a very dramatic and explosive final book in the Soul Savers series.
It's a sad yet happy time for Cook who created these characters in 2011 with the idea of self-publishing the first book in the series, Promise. Today with a large fan base world wide, Cook is taking a well deserved break before traveling to England for a five city book tour with four other authors.
Learn more about Kristie Cook here.
Book Description:
When her eyes see only darkness, her soul must uncover faith's light.
Evil reigns the world. Earth's been ravaged. Only supernaturals roam the surface, while anyone else who escaped the fallout remains hidden deeply underground. The only signs humans survived at all come from those who serve the Daemoni. To finalize his conquest of humanity, Lucas prepares to rip down the veil between Earth and the Otherworld, opening the gates of Hell into the physical realm.
So why do the Angels insist on Alexis fighting a war that's already been lost? Defending a world that no longer exists?
With a soul that's been battered and beaten by both Heaven and Hell, Alexis holds onto a single conviction—her love for her family. Her only mission now is to save her husband's and her son's souls. Once she does, she'll plead with the Angels to allow them off this world God has obviously forsaken.
But has He? And can she give up on her people so easily? On the souls of all humanity? Or will she find the faith she needs to defeat the Daemoni and win back the world? Just how far will she go to save the souls she loves . . . and those she does not?
This epic finale of the bestselling Soul Savers Series will break readers' hearts, put them back together, and leave them demanding more.