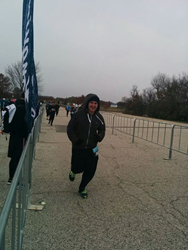 "Initially, I signed up for friendly competition. Knowing it helped a local charity made it so much more rewarding when I finished the race."
Lee's Summit, MO (PRWEB) February 15, 2015
Summit Imaging, Inc., an international provider of imaging and reporting software, solutions, and service for healthcare professionals, was delighted when their very own Development Project Manager, Corey Kelly, signed up to compete in the Longview Half Marathon. Participation in the race aided Saint Luke's Home Care and Hospice, a local charity which provides medical, emotional and spiritual support to both the patient and the patient's family.
Patient care is one of Summit Imaging, Inc.'s passions and as such, the company is happy to support charitable organizations like Saint Luke's Home Care and Hospice which further this cause.
"Initially, I signed up for the Longview Half Marathon for a friendly competition with a friend. But knowing that it, in turn, helped a local charity like Saint Luke's Home Care and Hospice made it so much more rewarding when I finished the race." – Corey Kelly, Development Project Manager for Summit Imaging, Inc.
Established in 1999 outside of Kansas City, Missouri, Summit Imaging, Inc. presents a dedicated EndoManager suite of products for image capture, physician and nurse reporting, data management, and EMR interoperability. Delivering international customer service via remote access, Summit Imaging serves multifaceted clinical facilities. Administrators, physicians, nursing staff, medical records personnel, and IT departments rely on Summit Imaging's effortless accessibility and reliability to assist in providing quality patient care and service to facilities of all sizes.
The EndoManager suite of products includes EndoGI, a core management tool for GI procedure rooms; EndoProse, the "2-minute report writer"; Nurse Notes, an integrated charting environment; Xpress, the "no frills" electronic image management solution; EndoOR, image management specific to the operation room; and EndoVet, a turnkey solution to veterinary practice imaging. i3Advantage is Summit Imaging, Inc.'s innovative pain management solution.
Summit Imaging, Inc. also offers HL7, DICOM, and custom interfaces managing ADT, ORU, and SIU applications to fully integrate EndoManager's suite of products with facility EMR systems.
# # #
If you would like more information about this topic, please contact Larry Bryne at 866-578-5713 or email at sales(at)summitimaging(dot)com. You can find out more about Summit Imaging, Inc. at http://www.summitimaging.com.