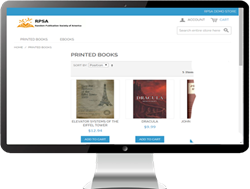 Associations want to offer these materials to their members, and we are happy to be able to offer a comprehensive, convenient way to do it.
Madison, WI (PRWEB) February 17, 2015
Omnipress, provider of educational content solutions for associations, is pleased to announce a new product offering for publications and training materials. The storefront is an online portal where hard goods and digital files can be purchased by association members.
Associations can work with Omnipress to set up an online store where their members can order printed publications or continuing education materials, other hard goods like USBs, and digital files (ePubs and PDFs). A storefront can be designed to include only printed materials, only digital files, or both types of media.
"Associations want to offer these materials to their members, and we are happy to be able to offer a comprehensive, convenient way to do it," said Steve Manicor, Omnipress' Vice President of Business Development. "The storefront can be built with an association's colors and logos; when members visit the site, it will look like the association they trust."
"Many associations prefer to offer digital files with a level of protection, like watermarking or digital rights management (DRM)," said Sean M. Lawler, Product Director – Digital Services. "Our storefront makes these options available to discourage the copying, sharing, and printing of an association's valuable publications and training content." Watermarking is considered less intrusive, whereas DRM offers a higher level of protection.
As a content delivery partner of associations, Omnipress wanted to make it easier to provide this content to members. If an association partners with Omnipress for other services, like printed training materials and fulfillment, the process becomes even simpler. "We can integrate the storefront and the inventory management system," said Tracy Gundert, Omnipress' CEO. "The more an association counts on us to help with content delivery, the better we can assist them in providing valuable content to their members. Processes are streamlined, systems are integrated, and delivering educational content to members becomes easier."
To learn more about the Storefront, visit Omnipress.com/training/storefront or Omnipress.com/publications/storefront. More information can also be found on The Big Ideas Blog, as well as Omnipress' social media pages and feeds on LinkedIn, Twitter, and Facebook.
# # #
About Omnipress
Omnipress helps organizations collect, produce, and deliver educational resources for attendees, learners, and members.
Products Include:
--Abstract Management and Paper Collection Systems
--Conference Printing
--Digital Publishing Platforms
--Online Conference Materials
--Mobile Apps for Conferences
--Poster Printing, Fulfillment, & Online Access
--CD & USB Production
--Continuing Education Training Print on Demand & Order Fulfillment
--Inventory Management of Continuing Education Training
--Online Training Materials
--Printed & Online Publications: directories, standards, policy books, & technical manuals
Our customers rely on us for our nearly 40 years of dedicated customer-service, vast knowledge of associations, and undisputed dependability.