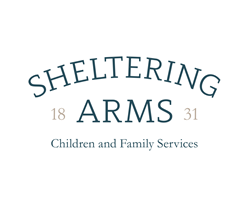 "As the City continues to evolve, you can count on Sheltering Arms to offer hope and innovation that maximizes the potential of children and families." Elizabeth McCarthy, CEO of Sheltering Arms
New York, NY (PRWEB) February 25, 2015
Episcopal Social Services (ESS) announced today that it is changing its name to Sheltering Arms Children and Family Services to reflect its history of operating compassionate, results-driven programs for New York's most vulnerable children and families.
Sheltering Arms, a 184-year old New York City nonprofit, has dramatically grown in scope and size in the past decade. The organization now serves nearly 20,000 high-need individuals from the Bronx to Far Rockaway with education, youth development, and family and community wellbeing programs. Following a recent merger with Safe Space NYC, the organization recognized a unique moment to build a united, inspirational identity for staff, clients, and partners alike.
"Whether it's a two-year old in Early Childhood Education, a teen in foster care, or a parent in our Family Preservation program, Sheltering Arms has always been there for the City's most vulnerable residents," said Elizabeth McCarthy, CEO of Sheltering Arms. "As the City continues to evolve, you can count on Sheltering Arms to offer hope and innovation that maximizes the potential of children and families."
In 2013, the organization commenced a rebranding process with input from board members, staff, clients, funders, government partners, and branding consultants. Sheltering Arms was the name of a 140-year old child care nonprofit acquired by the former ESS in 2006. As the organization continues to expand – with recent highlights including the expansion of Early Childhood Education and leadership in the City's Close to Home and Cure Violence initiatives – it was vital that the rebrand resulted in a name that inspires support and continued growth.
"Sheltering Arms is committed to being a reliable leader for delivering real outcomes for New York's highest-need communities," said Ken Kramer, President and Chair of the Board of Directors of Sheltering Arms. "We hope our new name will draw more attention to our rich heritage of running the City's most transformative, high impact programs."
About Sheltering Arms Children and Family Services
Sheltering Arms strengthens the education, wellbeing, and development of high-need children and families across the New York metro area. We serve nearly 20,000 people a year from the South Bronx to Far Rockaway. Through compassion, innovation, and partnership, we respond to our community's greatest needs and enable individuals to reach the greatest heights of their potential. Visit us at http://www.ShelteringArmsNY.org