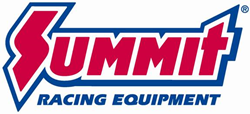 Tallmadge, OH (PRWEB) February 17, 2015
Circle track racers can get ready for the 2015 racing season with new gearing, a new engine, or by upgrading their race car chassis with high-quality tubing.
SCS Gearbox Quick-Change Gear Sets
SCS Gearbox Professional Series gears are made of 9310 aircraft alloy for maximum strength. The gears are crown-shaved (ground before heat-treating) to minimize backlash and runout, broached for proper shaft fit, and have a black oxide finish. Sportsman Series gears are made to the same stringent standards as the Professional Series gears, right down to the five-step heat treating process.
Chevrolet Performance Circle Track Crate Engines
A lot of tracks and race classes require a spec crate engine. Or maybe a racer would rather unbox their horsepower and drop it in their race car. Summit Racing has them covered with a choice of four Chevrolet Performance Circle Track Crate Engines. These engines are built with all-new parts and factory-sealed to meet the rules in classes requiring such engines.
AllStar Performance Tubing
Build a new chassis, bend a new roll cage, or repair a damaged car with AllStar Performance Steel Tubing available at Summit Racing. Mild steel round, mild steel square and rectangular, steel DOM round, and chromoly round tubing is available four and eight foot sections.
Summit Racing Equipment
SummitRacing.com
1-800-230-3030