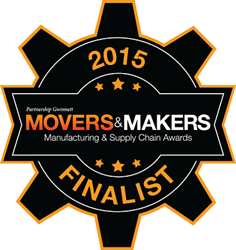 These companies create significant job opportunities and are essential to sustaining economic growth and prosperity
Atlanta, GA (PRWEB) February 26, 2015
PartnerTech Inc. has announced it has been named a 2015 Movers & Makers Awards finalist.
The Movers & Makers Awards are presented in recognition of exceptional companies involved in the manufacturing, processing, or distribution of tangible products and will be held on March 19th at the Gwinnett Center. This annual event serves as Georgia's largest local awards ceremony for manufacturing and supply chain companies and is expected to draw more than 300 local industry and business leaders.
"We are thrilled to be selected by Partnership Gwinnett as a finalist for the prestigious Movers & Makers Award," said Gary Bruce, President of PartnerTech Inc., North America. "This acknowledgement is a celebration of the impact that our industry is making in this community. We couldn't be more honored."
Finalists were selected based upon criteria involving economic impact in the community, corporate responsibility, and workforce excellence programs. Winners will be named in three manufacturing and two supply chain categories. All manufacturer finalists will be considered for Georgia Manufacturer of the Year.
"It is our privilege to recognize Gwinnett's elite manufacturing and supply chain companies, whose innovation and competitiveness drive our Nation's economy," said Nick Masino, Senior Vice President of Economic Development for Gwinnett Chamber Economic Development and Partnership Gwinnett. "These companies create significant job opportunities and are essential to sustaining economic growth and prosperity."
Winners will be announced at the Awards ceremony on March 19th. Sponsors for the 2015 Movers & Makers Awards include Avion Energy Group, Georgia Power, Habif, Arogeti & Wynne, Hire Dynamics, HLB Gross Collins and Millennium Mat Company. The Movers & Makers Award are presented by Jackson EMC, in collaboration with Partnership Gwinnett and Gwinnett Technical College.
About PartnerTech
PartnerTech AB is a global industrial partner offering customized solutions throughout the product lifecycle, from product development to manufacturing and aftermarket services, in a number of market areas such as MedTech and Oil & Gas. With almost 1,400 employees at its plants in Sweden, Norway, Finland, Poland, the UK, the United States, and China, PartnerTech reports annual sales of more than SEK 2,2 billion (approx. $335MM). PartnerTech AB, the parent company, is headquartered in Malmö, Sweden and is listed on the Nasdaq OMX Stockholm Exchange.
PartnerTech Inc. is a wholly owned subsidiary of PartnerTech AB of Sweden and offers expertise in systems integration and postponement manufacturing, making them an obvious choice for companies seeking to lower costs through better forecasting, supply chain alternatives, and efficiencies in distribution and management of capital investments. Services are tailored to fit the needs of each client, with regard to scaling production, shipping expertise, and sourcing methods.
About Partnership Gwinnett
Partnership Gwinnett is Gwinnett's economic and community development initiative. Led by the Gwinnett Chamber and a host of public and private partners, the initiative targets the retention and expansion of existing Gwinnett businesses in addition to the development of new business in five key market segments: Information &Technology Solutions; Health Sciences & Services; Professional & Corporate Services; Supply Chain Management; and Advanced Manufacturing. The ultimate goal is to promote comprehensive economic development, increase education and workforce excellence, and support community and leadership development for the entire Gwinnett community. For more information on Partnership Gwinnett, the internationally award-winning community and economic development initiative, please visit http://www.partnershipgwinnett.com.
For more information on 2015 Movers & Makers Awards ceremony, contact Haley Tolbert at Haley(at)gwinnettchamber(dot)org or by phone at 770-323-1174. To register, visit partnershipgwinnett.com/movers-makers-awards