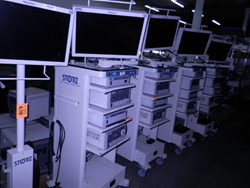 Fort Lauderdale, FL (PRWEB) February 16, 2015
Over 1,096 pieces of medical equipment from hospitals, surgery centers and other medical facilities around the United States will be sold in this month's Fort Lauderdale auction. Various types of equipment will be sold including radiology, surgery, endoscopy, lab, anesthesia, exam and much more.
The live auction will take place Tuesday, February 17 starting at 10:00am EST. The equipment is at Centurion Service Group's Fort Lauderdale warehouse located at 5025 North Hiatus Road, Sunrise, FL 33351. This will be Centurion's first auction in Fort Lauderdale since starting their operations there. About every five weeks Centurion will have auctions in Fort Lauderdale, Chicago and Las Vegas. Bidders will need to bid online to purchase equipment in the first couple Fort Lauderdale auctions including the auction on February 17th. On-site bidding will be added in the spring of 2015.
Inspection prior to the auction is available at their warehouse on Monday, February 16. For those unable to attend the inspection there is an online catalog posted on their website that displays photos and descriptions of each item in the order they will be sold. Registration information and the complete list of medical equipment can be found on their website: http://www.centurionservice.com.
A few highlights of this sale are: two Sechrist Hyperbaric Chambers, four Storz Image 1 towers, five Datex Ohmeda Aestiva 5 anesthesia machines, and Steris demo equipment.
About Centurion Service Group, LLC
Centurion Service Group is the world's largest medical equipment auction house. Every month over 7,000 lots of unique and diverse medical equipment are sold in their Chicago, Las Vegas and Fort Lauderdale auctions making them a one-stop shop for all medical equipment buyers. With a continuous turnover of medical equipment coming from hospitals, surgery centers, and other healthcare facilities from around the United States their inventory is constantly changing. All auctions are simulcast online so that buyers from around the world can participate, and for a more personal experience buyers can inspect the equipment and participate in the auctions on-site. Centurion Service Group also has timed auctions to sell installed radiology and other high-valued medical equipment.