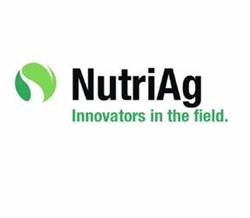 Our clients are now within closer reach, so they benefit from geographic sourcing of the products they need.
Biola, Fresno County, California (PRWEB) February 18, 2015
NutriAg Ltd. President Martin Bloomberg, today announced the completion of NutriAg USA's new Biola manufacturing plant in Fresno County, California. The new facility will manufacture and distribute NutriAg's lineup of foliar feeding products from the new plant.
"We are delighted to open our new, state-of-the-art operation here in Biola," Bloomberg said. "Our U.S., Central and South American clients are now within closer reach, so they benefit from geographic sourcing of our products. The Biola economy benefits economically through new employment and tax revenues and we get the chance to grow our foliar fertilizer, plant activator and water conditioner sales in our backyard."
NutriAg is recognized as a world leader in foliar feeding using carbohydrate chelates for delivery of micronutrients for maximizing crop yields. Absorption of naturally occurring micronutrients is achieved by chelating them with carbohydrates in a solution, which is sprayed on crop. The carbohydrates are easily absorbed and release the micronutrients once inside the plant. They are then metabolized for growth energy and, unlike synthetic compounds, leave no residuals in the plant or the environment.
"We help farmers maximize their crop yields with our strong team of in-house lab R&D scientists working closely with our agronomists in the field," explains Dr. Allison Hayward, NutriAg Scientific Communications Manager. 'NutriAg provides farmers with safe and compatible foliar fertilizers, plant activators, and water conditioners backed by sound science. The farmer's question might be "How can I improve my crop yield and quality without increasing my sprays?' or, 'How can I help raise the yield potential of my crop with this bad weather?' We get their answers from lab and field research and put them into the farmer's hands."
With added capacity and reduced delivery times made possible by the new Biola manufacturing plant, NutriAg is well positioned to support American agriculture markets, where demand for state-of-the art crop yield solutions like NutriAg's is high. With changes in temperature and and rainfall becoming the new normal for farmers in these regions, Nutriag is positioned well with its foliar activators for drought, mould and fungus mitigation.
###
For more information or media enquiries, please contact:
Tom Bajorek, Ph.D.
Director of Technical Support & Development
NutriAg Ltd.
62 Arrow Rd.
Toronto, ON, M9M 2L4, Canada
Direct: (416) 572-1966
Mobile: (647) 277-4698
http://www.nutriag.com
Email: tomb(at)nutriag(dot)com
NutriAg is a proven leader in increasing agricultural crop yield through advanced foliar micro-nutrients, biocides and adjuvant spray with a wide range of proprietary products for fruits and vegetables, orchards and vineyards, row crops, turf and tropical plants. NutriAg has headquarters, lab facilities, manufacturing plant and a packaging and distribution centre in Toronto, Ontario, and a state-of-the-art manufacturing and distribution center in Biola, California. Patented Max, TruPhos, Organic Lite and Plant Activator Lines are developed, manufactured and tested in-house by NutriAg researchers, plant physiologists, and agronomists.