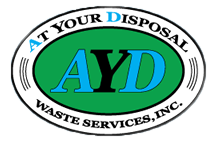 Providing dependable and regular hauling services is highly important to ensure large scale construction projects flow smoothly
Austin, TX (PRWEB) February 14, 2015
Austin dumpster rental company At Your Disposal (AYD) Waste Services will be providing roll-off dumpsters and recycling services for the redevelopment of Block 23 of the Thomas C. Green Water Treatment Plant, currently under construction by the Beck Group. This large-scale project is part of a dramatic and ongoing transformation underway in Austin, Texas, including the development of the Austin Central Library and the redevelopment of the Seaholm Power Plant. The Block 23 will soon be a high-rise office building, nearly 500,000 square feet in size and almost 30 stories tall. The mixed-use redevelopment of the decommissioned water plant will include apartments, shopping and dining in addition to the office space. The development is projected to be completed by November, 2016.
AYD will be providing 40-yard and 20-yard dumpsters for concrete and other demolition debris. AYD is a LEED certified waste management company, meeting the City of Austin Green Building requirements. Typically, over 90 percent of construction debris can be recycled, including concrete, wood, plastic and other such materials.
"We're excited to be a part of this redevelopment project," said Chuck Herb, owner of AYD Waste. "Providing dependable and regular hauling services is highly important to ensure large scale construction projects flow smoothly. The Block 23 Green Water project is going to be an incredible addition to the city."
About At Your Disposal (AYD) Waste Services, Inc.:
At Your Disposal (AYD) Waste Services, Inc. provides recycling and refuse hauling to the greater Austin, TX area. The company offers roll-off dumpster rental, waste disposal services, compactor rentals, construction debris removal, and hauling of recyclables, junk and more. AYD offers same-day service. Committed to protecting the environment, AYD is a LEED-certified waste collection company and participates in the Texas Environmental Quality Initiatives Program as well as local community beautification projects. To learn more about AYD and the services offered, please visit http://www.aydwaste.com.