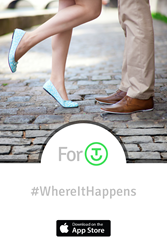 So excited to be a part of the beta test in Chicago. People are going to LOVE this app!
Chicago, IL (PRWEB) February 24, 2015
"Fortu is a mobile dating application that cuts the chit-chat and makes dates happen," says Jason White, Founder of Fortu. "No one has the time for the never-ending back and forth messaging or the constant delays associated with online dating. Making real life connections is easier said than done because of the high drop-off rate that exists on most online dating platforms. Fortu changes that dynamic with conversations initiated around a date or activity with a specific place and time to meet offline. So, it's not a matter of where or when, but the fun of deciding with whom."
Fortu cuts to the chase by focusing on the three major pillars required for successful dating: initial physical attraction, an event that both parties find to be interesting, and a date and time that works for both people. Here's how it works:
1. Need a date? Create a date with a specific date and time. Dates are organized by category, calendar date, and distance from user (get creative and get noticed).
2. See a list of everyone interested in going on the posted date. View those users' profiles, a quick video, filter based on dating preferences, and even strike up a conversation. As a safety and convenience feature, messaging can only be initiated by the date poster/creator.
3. Choose the lucky one.
4. Go on the date (get offline and connect in real life).
"A dating industry survey, titled 'How Has Internet Dating Changed Society?' (Mark Brooks, Chairman of Courtland Brooks), states, 'People are becoming less inclined to settle for mediocre relationships.' Fortu is 100% committed to making this a reality. Users come to Fortu to connect with people around real life events and common offline interests. It's not a game or a competition; its just plain and simple real life offline connections," added Jason. Fortu is earning its tagline, Where It Happens.
Fortu launched in January 2015 in Chicago and it is already creating a buzz. Set to take the online dating scene by storm, Fortu is currently creating strategic partnerships in the space. To learn more about Fortu, go to http://www.fortu.co. The app is also available for download on iTunes.