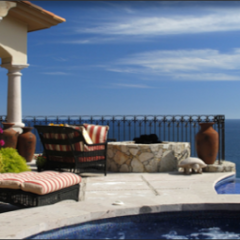 Elite Traveler chooses its yearly winners based on many criteria, such as price, luxury, amenities, services and overall accommodation.
Houston, Texas (PRWEB) February 15, 2015
Villas Del Mar, a prized Del Mar Escapes property in Los Cabos, was recently named one of the Top 101 Suites of 2014 by Elite Traveler. The private jet lifestyle magazine puts out its esteemed listing of the best hotels and suites in the world every year. Villas Del Mar made that distinguished list in 2014 thanks to Beachfront Villa 321. The main reason the writers selected this villa is because it's just eight steps away from the white sandy beach. The newly remodeled villa features four spacious bedrooms, four baths and luxurious private infinity-edge swimming pool -- all punctuated by an inspiring, sleek Mediterranean, Moroccan, and Mexican decor.
Elite Traveler chooses its yearly winners based on many criteria, such as price, luxury, amenities, services and overall accommodation. It takes a look at suites, hotel rooms, villas and other types of luxury lodging all across the world to come up with its annual award of Top 101 Suites. The 2014 award went to Villas Del Mar for its unique offerings and luxurious accommodations that this area of lush Los Cabos is renowned for.
Villas Del Mar, part of Del Mar Escapes that brings us the One and Only Palmilla Hotel, faces the Sea of Cortez, perched on the California Baja Peninsula. Del Mar's collection of truly unique luxury rental villas stretch along two miles of pure white sand beach indicative of Los Cabos. Here, guests can enjoy 5-star concierge services and the finest amenities in Los Cabos, located on the southern-most tip of the California Baja peninsula. In one of these villas, guests can enjoy access to their own private butler and chef, spa services such as massages and facials, private catamaran sunset cruises at dinner time, spinning and yoga classes, world-class restaurants, 18-hole golf course and award winning tennis court.
The villas put guests in touch with private and serene accommodations along the scenic Baja coastline, private sailing catamarans, three miles of lengthy walking paths, and access to two on-site fitness and recreation clubs. Historically, Del Mar Escapes has been an escape for celebrities and A-listers, but it also appeals to families, couples and singles of all ages.
Villas Del Mar provides private vacation in luxury villas, punctuated by five-star quality services within a world-class resort. Private butlers and chefs, pre-arrival planning, fitness center spa services, water sports, private golf carts, and more are all offered within a gated, secure community.
About Del Mar Escapes:
Del Mar Escapes is the luxury resort rental program founded by its namesake Del Mar Development, which is a real estate development company. Located in Cabo San Lucas, the resorts that comprise Del Mar Escapes occupy a two-mile stretch of beach on the Sea of Cortez, with a large collection of rental villas that vacationers can choose from. Customers who wish to get more information on the expanded holiday vacation packages at the Villas Del Mar resort should visit http://www.delmarescapes.com.