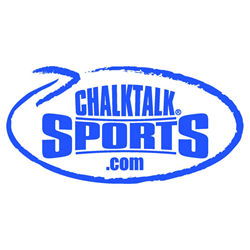 Our customers look to us not just for gifts, but creative and unique gifts that are sports themed that you can't get anywhere else. We wanted to give a gift bag that was designed for athletes and Valentine's Day
Norwalk, CT (PRWEB) February 13, 2015
ChalkTalk Sports recently launched their annual Valentine's Day special, offering mini sports bags that are brimming with goodies. The bags are available for eight different sports including baseball, cheerleading, field hockey, ice hockey, men's and women's lacrosse, soccer, and softball. The special is running now until Valentine's Day on Sat, Feb. 14.
"Our customers look to us not just for gifts, but creative and unique gifts that are sports themed that you can't get anywhere else. We wanted to give a gift bag that was designed for athletes and Valentine's Day," said Ryan Lynn, Director of Marketing at ChalkTalk Sports.
The goodies included in each bag vary depending on the sport; however, each will contain at least five to seven different items. For example, lacrosse bags will include a fleece-lined knit hat, a set of reusable stickers, a package of smartphone home button dots, and a pen shaped like a lacrosse stick.
"These are just fun little items that athletes can have. They're great for parents who want to get their athlete a gift for Valentine's Day. It is a thoughtful way to send something to your favorite athlete," Lynn said.
The retail value of these gift bags is between $55 and $65, but when these items are purchased as part of the Valentine's Day special, customers will receive over 50% off, bringing the price down to between $25 and $29.
The mini bags are 8'' by 4'' and are blue in order to highlight the simple yet unique design. "We took a full-sized duffel and shrunk it down. This is definitely an item that can be reused and is great for traveling athletes to put their toiletries, snacks, or music player and headphones," Lynn explained.
ChalkTalk Sports ran a similar special last year; however, this year's version includes brand new products and different items. This is the third generation of bags, with each design being larger than the previous version.
In addition to the mini bags, ChalkTalk Sports is also offering a variety of Valentine's Day-themed products including sports-themed jewelry, chocolate personalized hockey pucks with custom messages on the wrapper, sports socks with candy hearts as well as the name of the sport, and more.
About ChalkTop Sports
ChalkTalk Sports takes sports gear to the next level -- for them, it's not just merchandise, it's a lifestyle. ChalkTalk Sports designs and manufactures a variety of products for over 15 sports, including water bottles, ceramic mugs, hats, headbands and more. To learn more about the company, visit http://www.chalktalksports.com.