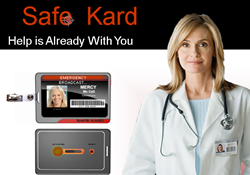 I became passionate on this new idea. I learned that the highest crime stats involve women being attacked when they are alone, jogging, parking lots, campus nights, etc. , Robert Eisenman, Inventor SafeKard ™ Personal Security Device
Chatham, New Jersey (PRWEB) February 13, 2015
Desktop Alert Inc., the 'less than one minute alert notification platform' used by the U.S. Military and numerous healthcare and corporate organizations worldwide, today announced the release of Safekard.
Desktop Alert (DTA) has entered into an exciting Pilot Program with Solano County California, a government customer of DTA's award winning mass notification system. The tests have been a success, and now SafeKard is going countywide, and into many other areas of use; including government, first responders, and schools. SafeKard combined with Desktop Alert's mass notification system is the ultimate personal safety solution. SafeKard gives employers an extra level of safety to protect their employees – a perfect fit everywhere ID Badges are required.
"For years my only thought was winning the Olympics - I had absolute tunnel vision. I woke up one day in the hospital paralyzed. I had broken my neck and was learning to walk again when I realized in a flash, if you're in real trouble, you need real help, right now, right at your fingertips. My keys were in my hand – SafeKey was born – GPS on your keys - safety at your fingertips.", Robert Eisenman, inventor SafeKard. "I became passionate on this new idea. I learned that the highest crime stats involve women being attacked when they are alone, jogging, parking lots, campus nights, etc."
"SafeKard is the connection between the mass notification system, and the end user. SafeKard fills a gap in the personal safety marketplace. SafeKard is simple and smart. It requires no marketing, it provides safety on an object that is already on you, and is light, sleek, state-of-the-art, and is a direct connection to help. SafeKard has an SOS button on it. If the user becomes hurt, lost, or in trouble, they simply push the personal emergency locator button, and help is on the way. SafeKard instantly provides the user's ID and location to a secure server, and help can be dispatched.", said Howard Ryan, CEO Desktop Alert inc. "SafeKard also can receive emergency broadcasts from Desktop Alert. Should there be an emergency event, the service center sends out instant notifications that electronically streams across the surface of SafeKard, thus alerting the all the users wearing the SafeKard ID Badge."
SafeKard is what's coming for the future of unsurpassed personal safety to the industry. SafeKard protects employees, employers, lone workers, open systems, and closed systems, like campuses, hospitals, health care workers, realtors, and public safety workers. SafeKard has carrier connectivity. SafeKard is an AT&T VAR for M2M.
About Desktop Alert Inc. http://www.desktopalert.net
Desktop Alert provides an array of end-point integration's with customers public address systems (Giant Voice), intercom systems, commanders channels, e-mail platforms, DSN-based and cloud-based telephony and sms message systems, network desktop alert popups, national weather service zip code based alerts, digital signage, cable tv, numerous social media systems, CAP server alert, external system sensors such as temperature devices and fire alarm systems.