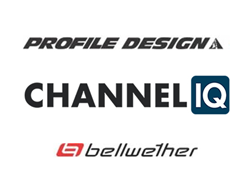 The innovative tools CIQ offers will be a compelling addition to our rapidly expanding arsenal of MAP enforcement tactics.
Chicago, IL (PRWEB) February 17, 2015
Industry innovator of cycling components Profile Design and cycling industry apparel stalwart Bellwether have teamed up with Channel IQ, the world's leading provider of online retail business intelligence, brand protection, and channel management software applications, to affirm their Minimum Advertised Price Policy (MAP) across their online channels. This new collaboration will solidify Profile Design's and Bellwether's already established MAP policies, putting them at the forefront of pricing policy in the online marketplace.
Manufacturers like Profile Design & Bellwether who utilize Channel IQ's tools gain insight into unauthorized discounting that goes against their pricing strategy. An effective solution that accurately enforces a retailer program protects a manufacturer's products from damaged sales, and erosion of their brand. Channel IQ's solutions will further establish Profile Design's and Bellwether's already secure MAP policies, advancing their solid position in the online marketplace.
"Profile Design and Bellwether are proud to have been one of the first cycling-specific companies to fully embrace this critical initiative," says Tim Coppock, Global Sales & Marketing Director of Profile Design & Bellwether. "We remain actively committed to maintaining a robust and vigilant MAP Policy. The innovative tools CIQ offers will be a compelling addition to our rapidly expanding arsenal of MAP enforcement tactics."
"By partnering with Channel IQ, Profile Design is taking the next necessary step in fully supporting their online channel," says Andy Walker, CEO of Channel IQ. "They are a prime example of a manufacturer who is proactively devoted to their authorized retailers and consumers."
About Profile Design
Profile Design | Cycling Components Designed for Speed
Since 1986, Profile Design has been setting the standard in innovation, creating cycling components designed for speed. For nearly three decades, Profile Design has been pushing the limits and making the bold moves to increase cycling performance on the sport's most captivating stages. Cyclists turn to Profile Design for compelling, detail-oriented products engineered for superior handling, aerodynamics, adjustability and fit. Whether to be first across the line or intrinsically fueled by the allure of competition, athletes worldwide turn to Profile Design, to not only achieve their goals, but to make a lasting statement. For more information about Profile Design, visit http://www.profile-design.com.
About Bellwether
Bellwether Cyclewear | Technical cycling apparel for those who love bikes.
Born and raised in California, Bellwether is inspired by the beautiful and diverse terrain our home offers. We see the world by bike: tough mountain climbs, and long stretches along the Pacific Ocean, glaring hot days and torrential downpours. The time we put in on the bike allows us to sweat the details needed to flawlessly integrate the finest form and function of each garment. Our passion for riding drives us to develop purposeful fabrics and technologies to combat real world conditions and improve the riding experience. For over 40 years we have combined high-performance fit and functionality with timeless style to make every ride great. For more information about Bellwether Cyclewear, visit http://www.bellwetherclothing.com
About Channel IQ
Channel IQ offers the leading suite of online retail intelligence solutions to manufacturers and retailers; providing real-time, online promotion and pricing information that empowers major manufacturers and retailers to quickly and profitably handle channel issues and competitive situations. Only Channel IQ combines integrated reporting, interactive applications, and managed services to enable manufacturers and retailers to automatically act on real-time data. Channel IQ solutions are the result of cutting edge technology combined with decades of industry experience in channel management, distribution, online retail and manufacturing. For more information, visit http://www.channeliq.com.