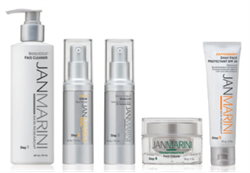 We're thrilled to be recognized for the fifth year in a row by NewBeauty.
San Jose, CA (PRWEB) February 17, 2015
Jan Marini Skin Research, Inc. (JMSR) is a leading provider of professional skin care and aesthetic solutions, reputed for creating breakthrough product solutions and technological advancements. For an unprecedented fifth year in a row, the JMSR Skincare Management System has been selected as the NewBeauty Beauty Choice Award winner in the "Best Anti-Aging Skin-Care System" category. The awards recognize the best products on the market, as voted by thousands of NewBeauty readers, beauty experts and editors. The fifth-annual NewBeauty Beauty Choice Awards are listed in the 2015 Winter/Spring issue of NewBeauty.
Recognized as "The Best Anti-Aging Skin- Care System" for the fifth year in a row, the Jan Marini Skin Care Management System ($300) is designed for prolonged use with little to no irritation or acclimation, is easy and intuitive to use and improvement is noted from the first application with smoother healthier skin over time.
For the past five years, New Beauty has selected the "tried-and-true" beauty buys that "provide results and are unique enough to stand out among the crowd." "We're thrilled to be recognized for the fifth year in a row by NewBeauty," says Jan Marini, CEO of Jan Marini Skin Research. "To receive accolades year after year from this ground-breaking beauty magazine is truly an honor."
For additional information or to find a local retailer, please visit http://www.janmarini.com.
About Jan Marini Skin Research, Inc.
Founded in 1994, the San Jose, CA-based Jan Marini Skin Research, Inc. (JMSR) is a recognized leader and innovator in skin care committed to continually expanding and improving the professional skin care market. Over the past 21 years, the company formed associations, with some of the world's leading physicians and research scientists to develop and clinically validate many new products and technologies. The company has established a portfolio of patented and proprietary formulas with technological firsts including, but not limited to, topical TGF beta-1, antioxidant sunscreen and topical resveratrol, reflecting its ongoing commitment to be the foremost developer of professional skin care products with measurable results. JMSR products and its award-winning Skin Care Management System are used and trusted by physicians and skin care professionals worldwide to ensure optimum results for patients and clients.
###