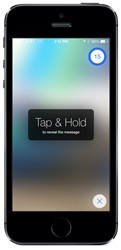 Flower Mound, TX (PRWEB) February 16, 2015
Today Logbie LLC. announced the release of its intuitive and highly functional Evanesce App. This new social networking app for iPhone and iPod Touch allows users to send photos and videos to friends. Each message self-destructs after 15-seconds. Adding to Evanesce's usefulness is its fun and highly effective anonymous send feature, which automatically generates a code so that users can send content secretly.
Using Evanesce is quick, easy and remarkably intuitive, as all users need to do is tap on an individual message and it will load. Next, simply tap and hold on the screen to view the message. Since each Evanesce message only lasts for 15 seconds, it is vital that users are ready to view a message when it is opened.
App creator Brad Byrd explained, "The Evanesce self-destruct feature makes it easy to surprise friends with any photo or video. Users never have to worry that it will come back to haunt! Anything can be sent anonymously and it will only exist for 15 seconds."
The Evanesce App features a clean user-friendly design. Sending messages is also fast and easy. Simply tap on the camera button on the main screen and then choose a photo or video from the camera roll to send or take a new photo or video. When users send data to friends, it only takes a moment to select the anonymous function so that a given message is sent in secret. Recipients are given a code so that they can then come into Evanesce, enter the code and see the message. The more friends users have, the greater the fun and excitement.
Evanesce's streamlined interface is evident when viewing video and photo messages. The app differentiates between video and photo messages via different icons, allowing users to instantly know what kind of message they have received. Evanesce also shows each individual message even if there are multiple messages from the same person.
Evanesce is the new way to surprise friends with a photo or video. It is currently available for iPhone and iPod Touch. Download this free app by visiting https://itunes.apple.com/us/app/evanesce-photo-video-share/id859360555?mt=8&ign-mpt=uo%3D4.
About Evanesce
Available for iPhone and iPod Touch with iOS 8 or later, Evanesce is the photo and video sharing app that lets users send their friends messages, including anonymous messages, that self destruct 15 seconds after viewing. Created by Brad Byrd, Evanesce is a fun, new and useful way for iPhone and iPod Touch users to reach out to their friends in a surprising manner. Visit https://itunes.apple.com/us/app/evanesce-photo-video-share/id859360555?mt=8&ign-mpt=uo%3D4 to download the app.