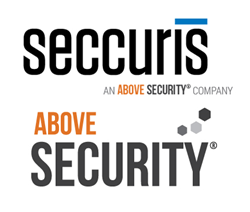 ...by joining the Above Security team we will be greatly positioned to accelerate our growth and continue to strengthen our position as a truly global Assurance Integrator.
Winnipeg, Man. & Montreal, Que. Canada (PRWEB) February 17, 2015
Above Security, a Canadian-based global IT security service provider, is continuing its strategic domestic and global expansion through the acquisition of Seccuris, Information Assurance Integrator and Managed Security Service Provider (MSSP) with offices in Canada and the United States of America.
The merged entities will create the only pure-play MSSP with two Security Operations Centers (SOCs) in Canada providing complete coast-to-coast coverage, and servicing its customers in both official languages, English and French. As a result, Above Security will have over 130 employees offering its information security services in more than 45 countries in three languages: English, French and Spanish.
Headquartered in Winnipeg, Man., Seccuris was founded in 1999 by industry visionary Michael Legary and over the last 15 years, Seccuris has come to be recognized as the leader in Enterprise Security Architecture and Assurance Integration. Seccuris offers services to enterprise customers in Canada and the United States including Enterprise Security Architecture, IT Risk Management, Incident Response and Forensic Services, as well as Threat and Vulnerability Managed Services via the OneStone™ Information Assurance Portal.
Customers of both companies will not see any variation of level of service. As a result of combining the two entities and service offerings, the merged organizations will continue to serve their respective customers from Montreal and Winnipeg, and will provide them with additional services and value. Michael Legary, founder and chairman of Seccuris, will be joining Above Security's Board of Directors, and Geoff Besko, Seccuris CEO, will be joining Above Security's executive team.
"We are very excited to join forces with the Seccuris team to build a company focused on customer value and service. This acquisition perfectly achieves our goal of complementing our strong international presence with domestic growth, but above all our two companies share similar cultures and values, which makes this move feel very natural," said Ray Georges Chehata, president and chief executive officer of Above Security. "This acquisition comes as part of our global strategic growth plan to build a premier global Managed Security Service Provider through organic growth and additional acquisitions."
"The synergies with the Above Security team were evident right from the start. Seccuris and Above Security coming together will allow us to create a unique provider of information security services," said Michael Legary, chairman and chief strategy officer of Seccuris. "There is a clear trend of consolidation in the IT security industry, and by joining the Above Security team we will be greatly positioned to accelerate our growth and continue to strengthen our position as a truly global Assurance Integrator."
ABOUT SECCURIS
Since 1999, Seccuris has been helping clients with business-driven security solutions through consulting, risk management, managed security services, and training. Seccuris is the unique alternative because it assesses each client's security needs in relation to their entire enterprise, not just their technology, and then tailors a program that will help them make effective risk-based decisions at every level. Seccuris helps protect companies when and where they need it most. For more information, please visit seccuris.com or call +1 (866) 644-8442.
ABOUT ABOVE SECURITY
Founded in 1999, Above Security is a Global IT Security Service Provider who caters to small and medium size businesses as well as Fortune 500 companies in important, highly-regulated industries – such as financial services and government – where the need to process or store considerable quantities of confidential data is paramount. From its two Security Operations Centers (SOCs) in Canada and Switzerland, Above Security has accumulated experience guarding the systems of over 250 private and government-owned organizations in over 45 countries around the world.
Above Security's strategic consulting capabilities and unique 24/7 managed security services allow its clients to concentrate on their core business, safe in the knowledge that they can count on Above Security for their informational asset security needs. Along with its 24/7 information security monitoring including intrusion detection, log aggregation, event correlation and incident response services, the company offers an array of consulting services, including amongst others penetration tests, vulnerability scans, security architecture and configuration review.
Being ISO 9001:2008 certified for its Managed Security Service delivery from its World Headquarters, Above Security is also an accredited member of FIRST (Forum of Incident Response and Security Teams) and a Certified QSA (Qualified Security Assessor) for Latin America, the Caribbean and Canada from the Payment Card Industry Security Standards Council (PCI SSC). To learn more, go to abovesecurity.com or call +1 (450) 430-8166.