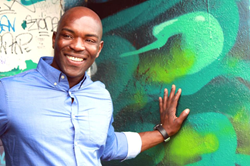 Wherever a man may choose to live, he must always consider that he's helping to shape the values of a culture, in which daughters will be raised.
Miami, Florida (PRWEB) February 16, 2015
On February 6th, at the Lewis Family Auditorium at Ransom Everglades School, several speakers of various backgrounds introduced themselves to the audience that had gathered for the TedxCoconutGrove conference's day of sessions. Among them, Ché Scott, author of the book, I Like Girls: Honor, The New Guy Code.
In his presentation, Ché discussed the importance of developing a new generation of men who are conscious of honoring girls and how this can create a powerful and positive change in the world.
Since publishing his book two years ago, Ché has embarked on a personal journey to teach boys—and their families—the value of respecting and protecting girls and how this makes for better relationships and a better society as a whole. He has put his vision together in a new interactive program for boys, "Eight Years in Eighth Grade."
The name of the program comes from the idea that the defining time in a young man's life happens between the ages of 14-22, the period when they mature the most both physically and mentally. It is also the time they begin to have their first significant interactions with the opposite sex. Beginning in the eighth grade, at about age 14, the program starts to give boys the tools to develop healthy relationships with females, to learn the importance of honoring and protecting women, and to cope with the common male peer pressures associated with modern dating.
"I don't have daughters, but if I did, I know how I would want her to be treated and since I would never want my daughter to be dishonored, then I've resolved to never dishonor another man's daughter," says Ché. "A world where all daughters are respected is a world where my daughter will be respected."
Ché believes that by creating this rare dialogue with young men, it can have a direct impact on issues that affect women globally including the plight of human trafficking. By teaching boys early on about how to treat women with dignity and to respect them for being society's mothers, sisters and daughters, attitudes that can lead men to immoral and even illegal activities against women will effectively change for the better.
"If by 22, that guy graduating college and entering the real world starts making different choices towards women," Ché explains, "We would bankrupt female sex trafficking. By not making those negative choices, they can impact the lives of many girls around the world."
Ché's book, a combination of his own anecdotes as well as a workbook that includes questions the male reader can ask himself, also includes a covenant at the end that they sign as a commitment to always honoring women and girls. Ché believes this kind of lifelong responsibility is crucial to safeguarding society.
"Wherever a man may choose to live," says Ché, "He must always consider that he's helping to shape the values of a culture, in which daughters will be raised-and one of those daughters might be his own."
To bring further attention to Eight Years in Eighth Grade and its message, young men in the 7th to 9th grades are invited to participate in an active obstacle course known as the Honor Games. The games are designed to build character while providing the opportunity to engage in physical activity. The Honor Games are held in 8 to 10 bi-weekly sessions operating seasonally three to four times a year.
The Honor Games will host a community showcase on February 21st at Ponce De Leon Middle School, 5801 Augusto Street, Coral Gables. An official ribbon cutting ceremony will take place on March 7th. The program will operate bi-weekly for 8 weeks.
Eight Years in Eighth Grade is currently only open to South Florida schools but plans on growing nationally.
Ché Scott is an author, speaker, licensed minister and associate chaplain for the Miami Heat and Miami Hurricanes. He is the founder of Eight Years in Eighth Grade, a counter cultural vision for how boys should treat girls through creative communications, relevant topics, and positive role models. To learn more about Ché, the Eight Years in Eighth Grade program and the Honor Games, please visit http://www.newguycode.com. For inquiries, please email, info(at)newguycode(dot)com.