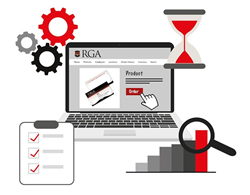 Tustin, CA (PRWEB) February 17, 2015
With the start of the New Year, companies are setting and putting marketing plans in place for the year. Setting marketing strategies, updating creative design, buying materials, coordinating printing and distributing collateral can be challenging and overwhelming. For this reason, RGA Printing and Marketing has launched a new Web-to-Print website aimed at helping companies with quick and efficient ordering of marketing collateral.
RGA's proprietary Web-to-Print software is custom designed for the specific needs of the companies who employ them. The software manages, optimizes, and stores what companies use and how to best forecast future marketing endeavors. The system allows for on-screen business card customization, unlimited product ordering, type-setting automation, proof generation and inventory/asset management. This leading technology solution authorizes employees to efficiently order marketing collateral their company, while simultaneously maintaining a strong brand standard.
RGA's Web to Print Solution is ideal for companies that have several franchises or locations. Branded materials for individual locations can be set to efficiently localize marketing. Industries that greatly benefit from this new software include: Hospitality/Hotels, Banks, Restaurant Chains, Retail Chains and Real Estate.
RGA has also launched a video that shows how the Web to Print Solution works, and how it can fit into a daily routine. For more information on RGA Printing & Marketing, the Web to Print Solution and to view the video, please visit webtoprint.rgacommunications.com.