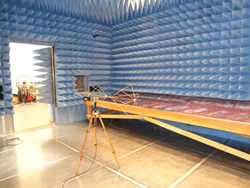 Chandler, AZ (PRWEB) February 17, 2015
DNB Engineering Inc., a full service test lab and world leader and recognized expert in certification testing, is celebrating the Grand Opening of their new Chandler, Arizona facility with a two-day event on February 20 & 21, 2015.
The event begins on Friday, February 20th from 9AM – 6PM with a Ribbon Cutting Ceremony at 4:30PM. The event will continue on to Saturday, February 21st from 10AM – 3PM. DNB Engineering invites the Chandler community to join them to celebrate with lunch and beverages. The two-day event will also include activities such as test presentations, business card raffle, giveaways and great networking opportunities.
A national company with three facilities in Southern California and one in Utah, their new Chandler location will support customer needs in the surrounding areas more efficiently.
"This is an important milestone chapter in the 36-year history of DNB Engineering," said Doug Broaddus, Executive Vice President of DNB Engineering. "This new facility will enable us to continue to provide world class service and solutions to our clients. We pride ourselves in meeting the needs of our customers we serve and growing with their business."
The new 5,500 square foot building has two 20' x 23' chambers meeting the attenuation requirements of MIL-STD-461 and DO-160. The building also has one 29' x 23' mode tuned chamber (MTC) that will be used for susceptibility testing.
The Chandler facility is at 10 Chandler Business Park located at 580 N. 54th St., Suite 4, Chandler, Arizona 85226. For more information about the Grand Opening event, please call Allie Gerber at (714) 870-7781.
About DNB Engineering, Inc.
DNB Engineering, Inc. is a full service Electromagnetic Compatibility (EMC), Lightning, HIRF (High Intensity Radiated Fields), Environmental, Product Safety and Regulatory Test Facility. With three locations in California, one in Utah and another in Arizona, DNB Engineering has the facilities, certifications and the experienced personnel to meet all testing, qualification, and regulatory compliance specifications. The company has the largest commercially available Mode Tuned Chamber on Planet Earth for HIRF testing, capable of reaching field strength levels up to 14,000 V/m. They provide state-of-the-art facilities and highly trained personnel to support the military, aerospace and commercial industries. DNB Engineering is NVLAP accredited to ISO/IEC 17025 standard and employs NARTE qualified personnel to meet all testing in the EMC scope.