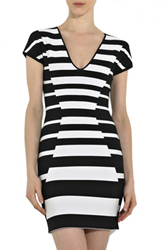 (PRWEB) February 19, 2015
Fecbek.com today shows its new arrivals of charming dresses. For women, a dress is probably the best way to show femininity.
It is must be every female's dream to dress charming enough either in everyday life or on some special occasions. To make this sweet dream come true, Fecbek.com has recently released its 2015 Spring/Summer Dresses to show the new design of charming dresses for the new season.
Reflecting femininity and tenderness, dresses are the ideal attire for women which would boost their charisma. The main advantage of the dress is that it is neat as well as luxurious. Women can try a little tenderness by means of wearing dresses along with lipstick and heels; forget the shirts and jeans.
For kinds of cute dresses, people can look for cheap and designer pieces at Fecbek.com (their sale section can have some great bargains!); people can also look for structured dresses in high-quality materials, with fun details like asymmetrical hemlines and floral prints to get the tender look.These latest dresses are available in various styles: retro style, Bohemian style, Gothic style, avant-garde style and so on.
Short, structured dresses with high heels are the perfect option to add that illusion of length. And in order to cater to the customers' need and fashion trend, the new design has made some improvement on the short styles which will make young ladies show their femininity. Those short dresses are featured with sweetheart necklines, asymmetrical sleeves and countless stunning colors. What's more, sexy mini dresses will help make a body shape much more flattering.
Apart from the new range of short dresses, Fecbek.com offers a large number of other dresses including party dresses, wedding dresses, prom dresses and more. It's surprising that most of dresses are offered below $100. It is really a great bargain for clients. The quality of every dress is out of everyone's expectation. To find out more, please visit http://www.fecbek.com.
About Feckbek.com
Fecbek.com is a leading online retailer and wholesale store specializing in selling clothing, shoes, bags, wedding and occasion dresses, Cosplay, costumes and beauty products. With a wide selection of products at a low price, the company has been universally recognized for honesty, high efficiency and thoughtful services; it has built a long-term relationship with many customers.