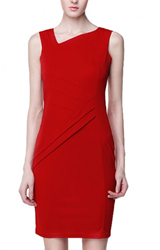 (PRWEB) February 23, 2015
Online retailer Fecbek shows that the color red isn't just for the Chinese in their new lookbook.
Fecbek is best known for its trendy, affordable clothing for stylish young women, and this spring the online retailer is launching a line of red dresses.
From among a world of colors, red stands out the most. It means different things to different cultures. In America and Europe, red is considered to be a color of passion, sexuality, heat, joy and love.While in China it is the color of happiness. Chinese people are attracted by the color red because it represents good luck and prosperity. No country in the world has ever shared a color in such a way as China, so it can be called "China Red ".
As a China-based comprehensive online store, Fecbek believes that China Red is filled with a mysterious charm beyond imagination. So the company adds its China Red to new arrivals. "We are here in China waiting for you to feel, to discover the charm of the color!" the General Manager Alex says.
Chris De Burgh in his eternal song The Lady in Red emphasized on the influence of the color red on men. And Fecbek found that a woman in red looks more charming actually. "Some people consider that red is synonymous with sexuality, but we'll show you that ladies in red can look also gentle and tempting," the designer says.
It is well known that when a person becomes passionate, his heart rate goes up and his skin flushes as blood is pushed outward to the surface. So in the psychology, red is associated with the love, passion and emotion. For example, a girl will draw red hearts in her diary when she falls in love with a man; and a man will give red roses to his beloved girl. According to one of Fecbek's market survey reports, men will get more interested in dating the women in red and they would be willing to spend more money on her when she was dressed in red."The red wedding dress I bought at Fecbek gave me a big surprise. It showed passion and love completely," Emma Wessman, a loyal customer of the company, says. Besides, the bright color can complement the undertones of the skin.
To sum up, Fecbek has given some practical dating advice: people can consider injecting some red into the wardrobe. To find out more, please visit http://www.fecbek.com/womens-dresses.
About Feckbek.com
Fecbek.com is a leading online retailer and wholesale store specializing in selling clothing, shoes, bags, wedding and occasion dresses, cosplay, costumes and beauty products. With a wide selection of products at a low price, the company has been universally recognized for honesty, high efficiency and thoughtful services; it has built a long-term relationship with many customers.