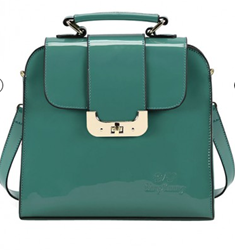 (PRWEB) February 27, 2015
Numerous new arrivals of bags for online retailer Fecbek feature retro styles for fashion-forward females.
Fecbek is a popular online retailer of young women's clothes, shoes and accessories that is best known for its affordable prices and up-to-date trends. For the spring season, Fecbek is launching a line of retro-style bags that is equally on trend. Items include evening bags, cosmetics bags, messenger bags, purses, chain bags and so on.
Retro-styled bags are still the main trend of this spring. From the London mod look to the bright hippie patterns and prints of the West Coast, all of the purses and totes have been designed to reflect the nostalgic era. Fecbek always finds a way to make a design look simple yet utterly fashionable. Its new arrivals offer a wide variety of silhouettes without any decorations. And many bags meld the functions of handbags and shoulder bags beautifully. In a word, Fecbek's designs of this season are as elegant and stylish as ever, and all of the bags are of value due to the brand's fine materials and craftsmanship.
The retro style denotes a fashionable style which consists of old-fashioned items worn in a stylish way. The company offers the trend in a wide selection of colors, fabrics and shapes. Retro designs aren't the only notable things here; the cruise collection debuted some of the most stunning hues of leather, including a crisp off-white, mauve-like purple, light pink and beyond. With the fabrics of silk, satin, nylon, embroidery, leather and fur, Fecbek has the perfect retro accessory for any occasion. To find out more, please visit http://www.fecbek.com.
About Feckbek.com
Fecbek.com is a leading online retailer and wholesale store specializing in selling clothing, shoes, bags, wedding and occasion dresses, cosplay, costumes and beauty products. With a wide selection of products at low prices, the company has been universally recognized for honesty, high efficiency and thoughtful services; it has built a long-term relationship with many customers.