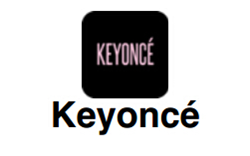 (PRWEB) February 15, 2015
Today, Keyoncé custom iOS 8 Keyboard is available. The app provides any Beyoncé fan a way to fully immerse themselves in all things Yoncé each and every day. One is able to lift themselves up with the inspiring words of this generation's greatest performer. Whether you are a Jay and Bey lover or hater this app will satisfy all your Single Ladies needs. Any mega fan who did not get enough from the most recent rereleased album can add to their growing collection of all things Beyoncé. #keyonceapp
The simple keyboard is broken up into categories: Album/ Songs, Attitude, Breakup, Confidence, Flirting, Life, Love, Women, Emojis (#beymojis) and Animate GIFs. With one tap or tap and paste you are able to send the best Mrs. Carter content. Included is daily wisdom from the Queen herself directly in your today widget. Creator Scott Manthey says, "Sasha Fierce is such a force that she needed to have her own keyboard. All B. everything." Easily navigate through the categories and scroll through the list of quotes, emojis and GIFS with a simple easy to use interface. This is not for the techno geeks.
The creator was inspired by the RapKey rap keyboard and realized Beyoncé was the most logical candidate to have her own keyboard. Marketer Nari Osugi states, "This is the start of a handful of themed custom keyboards."
Keyoncé is now available for $1.99 in the US (priced accordingly in other regions). The app is available worldwide, in English, on the Apple App Store.
Please visit http://www.keyonceapp.com/press for more Keyoncé - Beyoncé iOS8 custom keyboard - information, including videos, screenshots and icon of the app
The Keyoncé - Beyoncé iOS8 custom keyboard app is developed by Progressive Lifestyles, LLC, a software development company founded in 2011.
Website: http://keyonceapp.com/
###
If you would like further information on Keyoncé, a promo code, or you would like to schedule an interview, please contact:
Keyoncé
Scott Manthey, Owner/Member manager, Progressive Lifestyles, LLC
Phone: (408) 386-1907
Email: scott(at)smanthey(dot)com
Twitter: @somagear
To download the app: http://bit.ly/keyonceapp
Press Kit (Icon, screenshots, video): http://bit.ly/keyoncepr