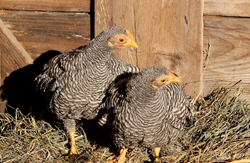 (PRWEB) February 16, 2015
A cuddling duo of barred Plymouth Rock birds in Minnesota and a bold feral rooster in Hawaii are the winners in the USDA (US Department of Agriculture) Cutest Bird Photo Contest for the month of January. Rita Kostreba of Farwell, MN and Carol Russell of Kaneohe, Oahu, HI took the prizes in each of two categories in the Biosecurity For Birds competition.
Kostreba's barred Rock pair, one with a protective wing over the other, won in the category of Cutest Bird family.
"This couple was a gift from a fellow backyard bird owner who wanted to stick to one breed. We like the odd looking birds," says Kostreba.
Rita and Jerome Kostreba live on a 12 acre hobby farm near Alexandria, MN and raise eight birds for insect control and for fun.
"They are free range and they are very effective in keeping our insect population to a minimum," said Kostreba. "And they are a lot of fun. I don't think people realize what nice pets they make."
A feral rooster turned to get a closer look at Carol Russell and she snapped a picture that won in the category of "Cutest Individual Bird."
"I was visiting a Heiau (sacred place of worship) state monument with friends when we encountered this fellow in the parking lot," said Russell. "He came up and eyeballed us. I grabbed my camera." A USDA employee, Russell learned about the contest online
The Kostrebas found out about the contest after picking up a copy of the 2015 USDA Biosecurity For Birds Calendar at a farm store. She said they made a point to read through the USDA Biosecurity For Birds website to learn more about keeping their birds healthy.
"The floor of the barn where they are kept is regularly lined with fresh hay and we make sure they have good air circulation," Kostreba noted, among other precautions.
The four month Cutest Bird Photo Contest began in December. At the end of each month, the winning photos are posted on the Biosecurity For Birds website for the US Department of Agriculture. The winners will be considered for inclusion on the 2016 Biosecurity For Birds Calendar. For an entry form, contest rules and more information visit: https://web01.aphis.usda.gov/biobird_contest.nsf/contest_entry?OpenForm
The Biosecurity For Birds program, begun in 2004, is designed to educate backyard poultry owners and bird enthusiasts about highly contagious poultry diseases and other threats to birds. The program helps inform bird lovers how to prevent disease and tells them what to do if they suspect their birds are infected.
Media representatives may contact Joelle Hayden at joelle(dot)r(dot)hayden(at)aphis(dot)usda(dot)gov (301) 851-4040 or Pam Goldstein at pgoldstein(at)diversitymc(dot)com 973-377-0300, Ext. 14