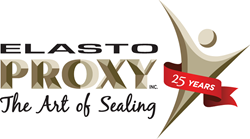 Founded 1989, Elasto flourished in Quebec before expanding to Ontario, the heart of the Canadian auto industry.
Boisbriand, Quebec, Canada (PRWEB) February 17, 2015
Elasto Proxy, global provider of specialty seals and custom insulation, is announcing an on-line article called Rubber Auto Parts, Plastic Auto Parts, and Automotive Suppliers. The Canadian custom fabricator seeks additional opportunities to supply Tier 1 and Tier 2 automotive suppliers in 2015.
Founded 1989, Elasto flourished in Quebec before expanding to Ontario, the heart of the Canadian auto industry. From its sales office and warehouse in Newmarket, Elasto Proxy is close not just to Toronto, but also to Oshawa, Windsor, and even Detroit itself.
Automotive Supply Chains
As Elasto Proxy explains in its new article, Tier 1 and Tier 2 suppliers to the Big Three automakers like how the custom fabricator can respond quickly to demand. Shorter supply chains strengthen logistics, an important consideration in an industry where stock-outs are not an option.
Elasto Proxy's global presence also includes a sales office and warehouse in South Carolina, a prime location that's close to automotive assembly plants in the southern U.S. The custom fabricator also maintains a sales office in China, and can help international automakers with local sourcing initiatives.
Rubber and Plastic Auto Parts
In a short video that supports its new article about auto parts, Elasto Proxy emphasizes its ability to supply molded rubber bumpers and stoppers for seat tracks, molded plastic parts with the words "press here", and molded rubber pads and end-pieces for brake pedals.
These pedal pads combined a rubber part with a plastic insert for lettering, and were more challenging to produce than a standard pedal pad. Elasto Proxy has also supplied lengths of rubber and plastic tubing for automotive wiring, parts for car door assemblies, and rubber isolators for hood props.
About Elasto Proxy
Elasto Proxy specializes in the design and custom fabrication of specialty seals, thermal and acoustic insulation, vibration dampening products and materials, EMI shielding, and other high-quality rubber and plastic parts.
By listening to all of your requirements and analyzing all of your needs, Elasto Proxy's solutions providers can recommend solutions that are right for your application. Contact us for more information.
Media Contact:
Clyde Sharpe
General Manager
Elasto Proxy Inc.
4035 Lavoisier Street
Boisbriand, Quebec, Canada J7H 1N1
csharpe(at)elastoproxy(dot)com
Ph: (450) 434-2744