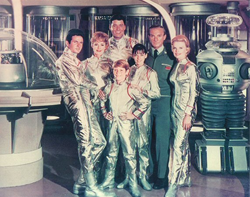 Danger Will Robinson
The Dalles, Oregon (PRWEB) March 01, 2015
Rex Mundi, announced today that Galacticon 4 will host a 50th anniversary reunion of Lost in Space at the Seattle Center on July 31st through August 2nd 2015 in Seattle Washington. Cast members attending are Bill Mumy (Will Robinson), Angela Cartwright (Penny Robinson), Mark Goddard (Major Don West). and Marta Kristen (Judy Robinson).
Lost in Space, created and produced by Irwin Allen, filmed by 20th Century Fox Television, and broadcast on CBS. The show ran for three seasons, with 83 episodes airing between September 15, 1965, and March 6, 1968. The first television season was filmed in black and white, but the remainders were filmed in color.
Bill Mumy:
Bill is an actor, musician, writer and producer. He started his acting career at the age of five. He's worked on over 400 television shows and 20 feature films and his career spans seven decades. As an actor, he's best known for his roles as "Will Robinson" on the 1960's series, "Lost in Space," "Lennier" on "Babylon 5", and "Anthony Fremont" from "The Twilight Zone". He is a voting member of the Academy of Motion Picture Arts and Sciences. He just wrapped up starring in Marc Zicree's Sci Fi film, "Space Command" to be released in 2015.
Angela Cartwright:
Angela was cast as Brigitta von Trapp in the legendary film The Sound of Music. In 1965, she was offered the role of Penny Robinson in Lost in Space, a television show that ran for three years. Both The Sound of Music and Lost In Space are celebrating their 50th Anniversary in 2015. She has guest starred in numerous television shows, commercials and movies. She married in 1976, raised two children Becca and Jesse and is a Grandmother of two.
Mark Goddard:
Born in Lowell, Massachusetts (July 24, 1936), the actor (real name: Charles Goddard) grew up in Scituate, Massachusetts, where his father owned a five-and-ten. At Holy Cross, the head of the dramatic society encouraged him to become an actor and, soon, Goddard was off to Manhattan, attending the American Academy of Dramatic Arts. He worked with stock companies and made guest appearances on TV before landing regular parts on TV series of his own. Throughout his acting career, in between jobs, Goddard has worked with children, from Head Start programs in California to Sloan-Kettering Cancer Center in New York City. His daughter, Melissa Goddard, is a producer; the two co-wrote 1992's Big Girls Don't Cry... They Get Even (1992), a film about Mark's work with "at-risk" kids.
Marta Kristen
Marta was "discovered" while eating a hamburger with a boyfriend at a drive-in restaurant in Santa Monica. Producer/Director/Writer James B. Harris approached her and asked if she would like to try out for Lolita. After checking Harris' background, she read for the part.
"My mother thought the role was not for me, so I withdrew," she says.
Marta had just finished an episode of The Greatest Show on Earth and was filming the role of Lorelei the mermaid in Beach Blanket Bingo when she was called in to meet with Irwin Allen. After meeting Marta, Allen was determined to have her play the role of Judy Robinson in his new series, Space Family Robinson. Marta initially refused the part, fearing (correctly) the character would be underutilized. Allen pitched several potential script ideas for the character, and Marta agreed to the role of Judy Robin in the series, now renamed Lost in Space. The rest is science fiction history.
More Information visit
Galacticon 4 Website
Facebook