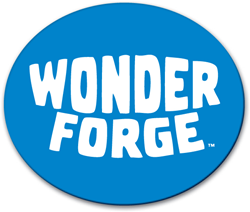 "From classic Star Wars to contemporary favorites like Doc McStuffins—our 2015 lineup offers kids and families fun new ways to engage and connect through innovative game play."
Seattle, WA (PRWEB) February 17, 2015
Seattle-based Wonder Forge, Inc.™, a standout in the game aisle and the Toy Industry's top dollar growth company in the children's game category(1), will unveil an exciting new lineup of Disney, Marvel and Star Wars games at the American International Toy Fair today, featuring top properties such as Doc McStuffins, Miles from Tomorrowland, Marvel's Avengers and Star Wars.
"We grew up on Disney, so it's a real pleasure to bring these beloved characters and stories to life for a whole new generation of kids," said Jacobe Chrisman, Wonder Forge president and founder. "From classic Star Wars to contemporary favorites like Doc McStuffins, our 2015 lineup offers kids and families fun new ways to engage and connect through innovative game play."
Registered media attendees can preview the complete Wonder Forge product lineup during Toy Fair, February 14 – 17, at the Jacob Javits Center in New York, booth #2273.
2015 Game Highlights
Doc McStuffins Mix Up! Fix Up! Game—Can you cure the mystery boo-boo like Doc McStuffins? Use deduction to figure out what will help Lambie, Stuffy, Chilly, and friends feel all better. Collect the most bandages to win. Put your problem solving skills to the test with this clever guessing game. Ages 3+; MSRP $14.99
Miles from Tomorrowland Rockin' Rocket Game—Miles and his family are making some important deliveries, but they're running out of room on their ship. Help them by stacking, shifting, and transferring objects onto the spaceship as you navigate toward different planets in the solar system. Keep the ship steady, because if you upset the balance, the delivery will get lost in space. Ages 3+; MSRP $16.99
Miles from Tomorrowland Astro Tilt Game—Embark on an exciting intergalactic journey with the Miles from Tomorrowland crew. Follow the audio cues from Tomorrowland Mission Control to maneuver the spaceship through the galaxy by tilting the tablet. Explore planets, dodge asteroids, and visit amazing supernovas with the flick of a wrist. For extra fun, challenge friends in pass-and-play action to see who can race around the galaxy the fastest. Ages 4+; MSRP $19.99
(1) Source: The NPD Group / Retail Tracking Service / U.S. Toys / 'Children's Games' subclasses / Annual 2014/ Dollar Volume
STAR WARS, and related properties and character names are trademarks and/or copyrights, in the United States and other countries, of Lucasfilm Ltd. and/or its affiliates. © & TM Lucasfilm Ltd.
About Wonder Forge, Inc.™
In 2007 a small group of creative professionals with a passion for children's entertainment came together to develop extraordinarily fun, original, quality play experiences. Today, Wonder Forge is proud to offer more than 110 games and puzzles, created in partnership with some of the industry's top licenses, and honored with more than 180 prestigious awards for product excellence, including 5 nominations for the Toy Industry's T.O.T.Y. Toy of the Year Award in the games category. Wonder Forge games are sold at mass and specialty retail outlets nationwide and in 14 countries around the globe. To learn more, visit http://www.wonderforge.com or find us on Facebook (facebook.com/WonderForge), Twitter (WonderForge), and Pinterest (pinterest.com/wonderforge/).