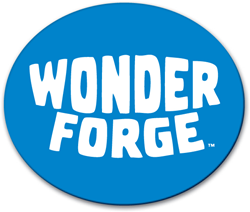 "Wonder Forge sets the bar for games in the Toy Industry with its quality approach to game design and strategic, creative application of licenses."
Seattle, WA (PRWEB) February 17, 2015
On the heels of a successful holiday season, Wonder Forge today announced that it is the top dollar growth manufacturer in the children's game category, with sales up 62% and a ranking of #3 in that category(1). The company was recently named one of Washington State's 2014 Top 100 Fastest Growing Private Businesses(2), marking the 3rd time in 4 years that the Seattle-based game maker has earned this distinction.
"Wonder Forge sets the bar for games in the Toy Industry with its quality approach to game design and strategic, creative application of licenses," said Chris Byrne, content director of TTPM. "The company's uniformly well-conceived and artfully executed games have tremendous play value and offer children fun new ways to actively engage with favorite characters and stories."
Through collaborations with the industry's top names in children's entertainment, Wonder Forge will debut an exciting lineup of new games for children and families today at the New York International Toy Fair. The company takes a novel approach to licensing, bringing to life favorite children's characters and stories—from beloved literary classics to the latest television and film properties—through innovative, quality game play.
"We are passionate about developing incredibly fun play experiences for kids and parents—and this commitment has fueled our success in a game aisle that, for decades, has been dominated by larger, long-established brands," said Jacobe Chrisman, Wonder Forge president and founder.
Registered media attendees can preview the complete Wonder Forge lineup during Toy Fair, February 14-17, at the Jacob Javits Center in New York, booth # 2273.
(1) Source: The NPD Group / Retail Tracking Service / U.S. Toys / 'Children's Games' subclass / Annual 2014/ Dollar Volume
(2) Source: 2014 Puget Sound Business Journal 100 Fastest Growing Private Companies, Washington State
About Wonder Forge, Inc.™
In 2007 a small group of creative professionals with a passion for children's entertainment came together to develop extraordinarily fun, original, quality play experiences. Today, Wonder Forge is proud to offer more than 110 games and puzzles, created in partnership with some of the industry's top licenses, and honored with more than 180 prestigious awards for product excellence, including 5 nominations for the Toy Industry's T.O.T.Y. Toy of the Year Award in the games category. Wonder Forge games are sold at mass and specialty retail outlets nationwide and in 14 countries around the globe. To learn more, visit http://www.wonderforge.com or find us on Facebook (facebook.com/WonderForge), Twitter (WonderForge), and Pinterest (pinterest.com/wonderforge/).