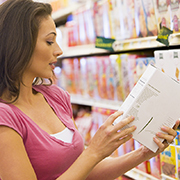 "The vibrant, crisp color produced by our digital printing press is perfect for food labels that need to pack a lot of information into a small space without sacrificing quality or legibility."
Denver, CO (PRWEB) February 17, 2015
Pioneered by the American Heart Association, February is American Heart Month. The AHA is urging people to engage in physical activity, pay more attention to nutrition labels and make healthy food choices to reduce their risk of heart disease.
For years, heart disease has been the leading cause of death for both females and males in the United States. According to the U.S. Department of Health and Human Services' Office of Disease Prevention and Health Promotion, the condition is responsible for a staggering 25 percent of deaths every year - but it doesn't have to be that way.
It might not seem as if checking the salt content of assorted brands on the grocery store shelf and then choosing the one with the lowest amount will make a difference, but it truly can - and that's exactly the message the AHA is trying to get across during American Heart Month. Repeatedly making healthy food selections over time can have a significant positive impact on people's health, lower their risk of heart disease and potentially prolong their lives.
Don't Underestimate the Importance of Bottle, Can, Box and Jar Labels
The panel of ingredients may take up a relatively small amount of space on bottle, can, box and jar labels, but size doesn't always matter. In fact, this list is an extremely important packaging component, if not the most important. Lightning Labels encourages all food and beverage manufactures to consider clear labeling to help consumers make informed choices.
Shoppers who are trying to make more heart-healthy choices will be looking to reduce their intake of sodium, sugar, trans fats, saturated fats and cholesterol, as well as increase the amount of grain, fruit, vegetables, fiber and omega-3 fatty acids in their diets. This list of do's and don'ts may seem overwhelming to consumers - especially those who are used to grabbing products that look good rather than those that are good for their health. The list of ingredients on food labels breaks everything down in a comprehensive manner, which makes it a lot easier to decide whether to add an item to the shopping cart or put it back on the shelf.
Custom Food Labels Must Provide Crucial Information for Consumers
Custom food labels serve a lot of purposes. They must be eye-catching enough to pique the interest of consumers browsing the shelves, yet at the same time, their designs shouldn't be so overwhelming that they get in the way of delivering important information that shoppers need to be aware of. This includes ingredient lists, manufacturer details and, if applicable, certifications of the products' environmentally friendly or organic status.
"The vibrant, crisp color produced by our digital printing press is perfect for food labels that need to pack a lot of information into a small space without sacrificing quality or legibility," said Scott Proctor, vice president of sales at Lightning Labels.
About Lightning Labels:
Lightning Labels uses state-of-the-art printing technology to provide affordable, full-color custom labels and custom stickers of all shapes and sizes. From small orders for individuals to the bulk needs of big businesses, Lightning Labels is equipped to handle and fulfill custom label and sticker projects of all types. Best of all, like the name implies, Lightning Labels provides a quick turnaround for every customer's labeling needs. Uses for Lightning Labels' custom product labels and custom stickers include food packaging and organic food labels, wine and beverage labels, bath and body labels, and nutraceutical products, such as vitamins, essentials oils, and herbal remedies, as well as event stickers, adhesive window stickers and more. Lightning Labels strongly supports the development of environmentally friendly printing materials and carries EarthFirst PLA, a new kind of green label material made from corn instead of petroleum. While operating as a high-tech printer, Lighting Labels prides itself on its personalized customer service. Lightning Labels provides one stop shopping for all of your custom label needs. For more information and to place orders online, visit LightningLabels.com. For the latest in packaging news and labeling promotional offers, find Lightning Labels on Twitter (@LightningLabels), Facebook, Pinterest, Google and LinkedIn.