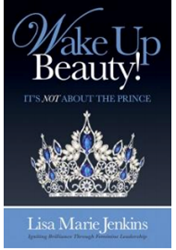 Women evolved beyond the "Prince Charming" consciousness can liberate themselves and their men from untenable expectations.
(PRWEB) February 16, 2015
Today on Dr. Carol Francis Talk Radio, Lisa Marie Jenkins discusses her book "WAKE UP BEAUTY!  It's Not About the Prince."  The program begins by examining the myths and the truths of Happily-Ever-After. Then Jenkins and Psychologist Dr. Carol Francis explore steps women need to achieve full joy and satisfaction that is not dependent on other people. Join the discussion live February 16th, 10AM PCT, or on-demand at http://www.blogtalkradio.com/dr-carol-francis/2015/02/16/women-be-free-to-love-be-loved-by-yourself-first-with-author-lisa-marie-jenkins.
Peppered with personal experiences, mistakes and stories, Jenkins zeros in on "how we fall asleep on ourselves." Women can be lulled or duped by long held social memes which state that being loved by a man is the sole source of a woman's fulfillment. Jenkin's book offers specific exercises on:

How Women Can Learn to Play Big
How They Can Let Go of What No Longer Serves Them
How to Retrieve and Shine Their Authentic Selves
How to Reclaim Vulnerability, the Path to Freedom
How to Spur Self-Compassion and Become Their Own Best Friend
How to Fully Step into an Engaged and Powerful Life  -- With or Without a Partner
About the Author Lisa Marie Jenkins:
"Wake Up, Beauty! It's Not About the Prince" is a book for women still looking for salvation in the arms of a man. "Wake Up, Beauty" is indeed a wake-up call to anyone who either keeps looking for love or has found a lover and still feels empty. Lisa Marie Jenkins, a Huffington Post blogger, will provide the catalyst to start seeking another ending to a Fairy Tale story. Lisa Marie Jenkins is also a professional speaker, executive coach, consultant, and workshop facilitator specializing in feminine leadership. For contact information and ordering books go to LisaMarieJenkins.com
About the Show Host Dr. Carol Francis:
Dr. Carol Francis, author of "Evolving Women's Consciousness: Dialogue with 21st Century Women" and 9 other books is a Clinical Psychologist and Marriage, Family & Child Therapist practicing for 38 years.  Dr. Carol Francis practices in the Los Angeles area including Torrance, El Segundo, Long Beach, Rancho Palos Verdes, Manhattan Beach.  Dr. Carol Francis can be reached at drcarolfrancis.com and her 7 year old radio shows can be also attained at drcarolfrancistalkradio.com.