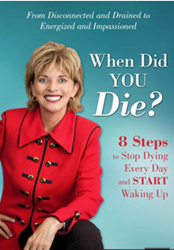 Daily demands, abuses, or self-doubt deplete our energies, and Hayes offers 8 steps to wake-up and enliven your passions.
St. Petersberg, Florida (PRWEB) February 17, 2015
Temple Hayes Author of "When Did You Die?  8 Steps to Stop Dying Every Day and Start Waking Up" discusses how people become trapped, living ineffectively, empty and powerless. Hayes then reveals her 8 doable steps which re-invigorate passionate and successful living. Temple Hayes joins Dr. Carol Francis Talk Radio on the Women Change the World radio series and the interview is available today. Listen at
http://www.blogtalkradio.com/dr-carol-francis/2015/02/10/temple-hayes--when-did-you-die-8-step-to-stop-dying-with-dr-carol-francis and participate in the discussion on Facebook and Twitter with Dr. Carol Francis.
"Consider removing your true self from the disconnected life and relationships which deplete your energies and drain you of your personal existence.   Move yourself into living an invigorated, in depth version of your life where you can be impassioned, self-respected and eager to explore the extent of your personal powers, personal loves and creative capacities" suggests Temple Hayes.   Author and Unity minister, Temple Hayes beautifully dialogues about her powerful steps she practices which help individuals move toward invigorating life while overcoming trauma, abuse, loss, confusion, addiction, depression, dissociation, and rejection.  
About the Guest:
Temple Hayes is the author of "When Did You Die?  8 Steps to Stop Dying Every Day and Start Waking Up" and Temple Hayes can be contacted at templehayes.com. Hayes is today one of the most respected and authentically inspiring leaders in spiritual enrichment and a sought-after speaker. A Unity minister in St. Petersburg Fl., with a global following, and an extremely popular radio show, Hayes knows firsthand what it is to die to your true self and your dreams. Temple Hayes explains, "True success is measured by how we thrive and live being totally alive, rather than being drained and weary. Subtle deaths prevent us from experiencing the miracles and magic that are our birthright. Your light is your energy, your gift to the world. And your lightness of being is your gift to yourself. Making a decision to stop dying will greatly increase your capacity to start living and to manifest your true purpose in life. You will now begin to shine."  
About the Host:  
Dr. Carol Francis, Clinical Psychologist, Marriage, Family & Child Therapist, Certified Hypnotherapist, Reiki Master and Shamanic ally trained has the wonderful opportunity to interview enlightened and authentic pilgrims of humane movements toward evolved living. Dr. Carol Francis, author of 10 books including "Evolving Women's Consciousness: Dialogue with 21st Century Women" and "Your Soaring Phoenix." Dr. Carol Francis practices in the Los Angeles area serving Redondo Beach, Rancho Palos Verdes, Manhattan Beach, El Segundo and surrounding areas.  Dr. Carol Francis can be reached at drcarolfrancis.com.  More radio programs of this nature can be found at drcarolfrancistalkradio.com.