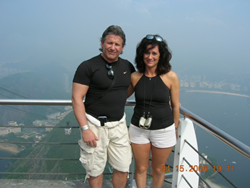 No two diet plans are the same. Diet plans are geared toward helping patients improve the areas of their lives that need special attention.
Los Angeles, CA (PRWEB) February 17, 2015
The old adage, "you are what you eat" rings particularly true these days with more and more research being focused on the effects of food on one's overall health. While it is clear to most people that carrying excess fat can lead to numerous diseases, increasing the risk for heart attack, stroke and diabetes, many do not ever really address their personal reason for feeling tired and sluggish after eating. Many simply attribute their lack of energy to busy schedules, getting older, etc. The truth is that those people who get back to basics, change their diets, and eliminate high calorie, high carbohydrate processed foods can boost energy by cleansing their system, losing excess fat, reducing their risk for weight-related disease, look younger and healthier and enjoying more activities without feeling tired and sluggish. For this reason, Diet Doc now teaches their patients how the body reacts to specific foods to avoid these uncomfortable feelings after a meal. This is why thousands of people throughout the country have turned to Diet Doc.
Diet Doc has developed medical weight loss programs that focus on helping clients cleanse their system of unhealthy processed carbohydrates helping patients boost energy levels, improve their sleep, improve their mental capacity and overall general mental and physical wellbeing. Because their diet plans are based specifically on each client's personal needs, no two diet plans are alike and each plan is geared toward helping that client improve the areas of their lives that need specific attention.
New patients work closely with the company's certified nutritionists, who use their own algorithm to design meal and snack plans based on each patient's age, gender, activity level, nutritional needs and medical conditions. They teach their patients how to cleanse their system of unhealthy processed carbohydrates and high calorie foods that drain energy levels, substituting bad eating habits with a wide range of healthy lean proteins and green leafy vegetables that energize the body, eliminate sluggishness and leave them feeling full and satisfied. Special diet plans are created for those who have struggled to lose that final 10-20 pounds and have reached a weight loss plateau to those who must lose 100 pounds or more.
Because Diet Doc understands that eliminating carbohydrates can be challenging, many patients will receive prescription hormone diet treatments, exclusive diet pills and powerful fat burners. These powerful products are available by prescription only after an online consult with one of the company's doctors and are administered under strict medical supervision to kick start the metabolism and generate fast weight loss in the hard to reach areas, while also naturally suppressing the appetite. And, because their diet treatments are enhanced with Vitamin B12 to boost energy, patients are losing weight rapidly without loss of energy. In fact, the majority of over 20,000 actual patients reported losing 20 pounds or more per month without hunger, cravings or fatigue.
Standing firm to their commitment to provide only the safest and most effective diet products available on today's market, all Diet Doc prescription products are manufactured in fully licensed, U.S. based, FDA approved pharmacies and cannot be found on store shelves. Each order will be accompanied by a third party laboratory analysis, detailing the quality and quantity of all active ingredients.
And, because Diet Doc is one of the only medical weight loss programs to partner with Telemedicine, patients can now avoid costly and time consuming visits to doctor offices and weight loss clinics. By simply calling the company or logging onto http://www.dietdoc.com patients can complete an initial health evaluation, schedule a personal online doctor consult, schedule weekly checkup calls and order their prescription diet products without leaving the comfort of their home.
The company has helped people in even the most remote regions of the country restore their overall health and boost energy levels by losing dangerous excess fat, earning their reputation of trust and reliability by delivering safe, effective and affordable diet plans that really work.
About the Company:
Diet Doc Weight Loss is the nation's leader in medical, weight loss offering a full line of prescription medication, doctor, nurse and nutritional coaching support. For over a decade, Diet Doc has produced a sophisticated, doctor designed weight loss program that addresses each individual specific health need to promote fast, safe and long term weight loss.
Diet Doc Contact Information:
Providing care across the USA
Headquarters:
San Diego, CA
(888) 934-4451
Info(at)DietDoc(dot)info
http://www.dietdoc.com
Twitter: https://twitter.com/DietDocMedical
Facebook: DietDocMedicalWeightLoss
Linkedin: https://www.linkedin.com/company/diet-doc-weight-loss?trk=biz-brand-tree-co-logo