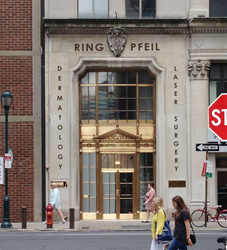 Every time I leave the office I think, WOW! What a great experience!
Philadelphia, PA (PRWEB) February 18, 2015
The new ultra modern dermatology and laser surgery center will open on Tuesday, February 17th in the practice's recently acquired building at 1516 Locust Street.
"Thirty percent of our patients travel from Philadelphia and New Jersey to our office on the Mainline. We listened to them and built a new office in center city for more convenient access to our services," says Dr. Franziska Ringpfeil, an assistant professor of dermatology at Sidney Kimmel Medical College at Thomas Jefferson University and the Medical Director at Ringpfeil Advanced Dermatology.
Dr. Nina Abraham, a board certified dermatologist, will provide medical dermatology services for all skin, nail and hair conditions. Most common services include evaluation for acne, rosacea, psoriasis, and other rashes as well as skin cancer screenings, skin cancer surgery, mole removal, and more.
Dr. Franziska Ringpfeil will provide cosmetic and laser services including neuromodulators (Botox and Dysport) and injectable fillers (Juvederm, Restylane, Perlane, Radiesse and Belotero), as well as skin rejuvenation, scar treatment and earlobe repair.
Other cosmetic services that will be available at the Philadelphia office include laser hair removal, facials and acne facials, chemical peels, Pixel resurfacing, IPL, microdermabrasion, and more.
Tattoo removal with Picosure, miraDry for underarm sweat and odor reduction as well as Cryoshape for keloid treatment will be available at the Mainline facility only.
"I was so excited when I heard that Ringpfeil is opening a new office in Center City," says Lauren Harel who lives in the Spring Garden area of Philadelphia. "I do not know any other practice in the area where the dermatologists spend as much time with their patients. I never feel rushed, and have never waited more than a couple of minutes to see Dr. Abraham. Every time I leave the office I think, 'WOW! What a great experience.'"
You can now book your appointment for the Philadelphia area on their website at: http://www.ringpfeildermatology.com/philadelphia.php
About Ringpfeil Advanced Dermatology:
Ringpfeil Advanced Dermatology provides premium general dermatology, cosmetic dermatology, dermatological and laser surgery to the Philadelphia, Main Line, and Delaware Valley area. The practice was founded by Franziska Ringpfeil, MD, a board certified dermatologist with training in both the US and Germany as well as national and international recognition through lectures, peer-reviewed articles and many book chapters. She is assistant professor at Jefferson Medical College and the recipient of the prestigious Young Investigator Award by the American Academy of Dermatology. Her practice provides uncompromised quality of care through experience, technology, and focus on patient satisfaction.