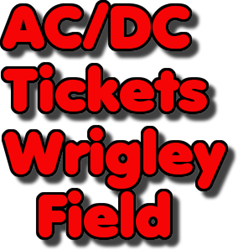 Chicago, IL (PRWEB) February 16, 2015
Ticket Down is a reputable source for cheap AC/DC tickets at Wrigley Field in Chicago. This iconic band recently announced their 2015 North American tour dates for their long awaited "Rock or Bust" tour.
Wrigley Field is one of the most historic venues in the United States, let alone in sports. The venue in Chicago, IL has hosted numerous memorable acts over the years for musical events including Jimmy Buffet, The Police, Elton John, Billy Joel, Rascal Flatts, Dave Matthews Band, Paul McCartney, Roger Waters, Brad Paisley, Bruce Springsteen, Pearl Jam, Jason Aldean, Blake Shelton, Zac Brown Band, Foo Fighters, and on September 15, 2015, will host the Australian rock group, AC/DC.
AC/DC was originally formed in 1973 in Sydney, Australia by Malcolm and Angus Young. Both performed with the group until Malcolm was forced out of the group because of his ongoing battle with dementia. They decided to keep it in the family by having Malcolm's replacement be Stevie Young, the duo's nephew. Along with Brian Johnson, Phil Rudd, and Cliff Williams, these five men will be the version of AC/DC that will be performing on stage for their North American fans this year.
When this reincarnation of AC/DC hits the stage, fans will hope to hear both songs from their new album "Rock or Bust" along with some of the greatest hits from the group's 40 plus year career. Some of these hits are known by even novice fans like "Back in Black," "T.N.T.," "Thunderstruck," "Stiff Upper Lip," "Highway to Hell," "Dirty Deeds Done Dirt Cheap," and "Hells Bells." Their diehard fans that have been rocking with them since their first single, "Can I Sit Next to You Girl," will hope to hear these songs, plus some of their other popular hits including "High Voltage," "Rock and Roll Ain't Noise Pollution," "Who Made Who," and "Heatseeker."
Wrigley Field, of course, isn't only used for musical concerts. The venue, which opened in 1914, is a Chicago Landmark and has been home of the Chicago Cubs from Major League Baseball. Known as the loveable losers of baseball, the Cubs haven't had the best luck in Wrigley Field, but their fans have come to know and appreciate the venue for what it is, baseball gold. Wrigley Field hasn't only been the host site for the Cubs, the National Football League had two teams play here over the years including the Chicago Bears and Chicago Cardinals, who now reside in Arizona.
About TicketDown.com:
Ticket Down delivers tickets to sold out concerts and events worldwide when no one else can, and they do so at discounted prices. This popular ticket exchange also has authentic AC/DC tickets in Chicago at Wrigley Field. Concertgoers can select from field seats, box seats, club seats, Wrigley Field rooftop seats, luxury suites, mezzanine suites, 100 level seating, 200 level seating, 300 level seating, 400 level seating and 500 level seating.
Note: Ticket Down is not associated with any musical artists or venues mentioned in this release. The names that are used in this release are purely for descriptive purposes. We are not affiliated with nor do we endorse any musicians or venues in this release.
Check out our discount codes online for all upcoming events. Ticket Down has low overheads which allow this well-known ticket site to keep prices competitive