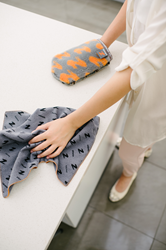 Portland, Ore. (PRWEB) February 24, 2015
With spring cleaning on the horizon, Zabada encourages consumers to consider the benefits of chemical-free cleaning products. Many common household cleaners contain chemicals that are harmful to both the environment and to humans. Natural cleaning products like Zabada's have been proven to be highly effective – without the environmental and health risks.
"We are here to inform and educate consumers that you can effectively clean your home without chemicals. Our fibers have been scientifically researched and produced for over 20 years," said Zabada CEO Damian Pike.
Using materials such as microfiber, Zabada's safe cleaning products are efficient and serviceable. A 2013 study by the University of Western Australia found that microfiber technology removes more bacteria than cleaners containing toxic chemicals. "Zabada fibers have been scientifically proven to remove 99.9% of bacteria," said Pike. "In head-to-head swab tests, Zabada consistently outperforms leading chemical and green cleaners, proving toxic chemicals are simply no longer required to achieve a clean, healthy home."
A recent study by Columbia University's Mailman School of Public Health, published in PLOS One on December 10, 2014, showed that repeated maternal prenatal exposure to phthalates is associated with deficits in intellectual development in 7-year-old children. Phthalates are commonly found in detergents and other household items. Too much exposure to other cleaning ingredients has been shown to cause acute symptoms such as headaches, dizziness, and skin and airway irritation.
"Much of what we understood as best practice in cleaning has been turned on its head by microfibers, and the science backs it up," said Pike. "Today it's well understood that toxic cleaning chemicals in the home are dangerous and unhealthy, and there are concerns that green chemicals aren't much better."
Zabada offers a 21st century alternative that delivers on every level. "No one really enjoys cleaning, so a product like Zabada that cleans quicker, performs better, lasts longer and is healthier is always going to grab attention," said Pike. "Add the environmental benefits of being zero waste and water wise, and you have a game changer."
Zabada supports chemical-free homes by creating healthy, cost-effective cleaning items. In addition to being child safe and pet safe, Zabada's products are extremely durable. Microfiber cleaning mitts, for example, can last for 2-3 years, which saves consumers money in the long-run.
For more information about Zabada, please visit http://www.zabadaclean.com.
###
About Zabada
Spoiler alert: Splashing toxic chemicals around the house isn't cleaning, it's polluting and it's not healthy. Zabada is the 21st century cleaning company here to clean American homes faster and more safely – without using chemicals.
Zabada cleans homes using Zabada fibers and water alone! Magic, you say? Yes, it kind of is. Our products don't just do it once, they keep doing it for up to three years and can be reused week in and week out. Just use them, wash them, and away you go again. Your home will be cleaner, safer, and chemical-free. Zabada keeps on winning for the environment because it eliminates the need to throw out tons of plastic bottles and disposable wipes or pour gallons of chemical waste water down the drain. Brilliant!
Scientifically proven, with 20 years' experience in Europe and Australia, Zabada is a technological revolution in cleaning. Using advanced combinations of fibers and microfibers that mechanically remove bacteria, dirt and grime, Zabada delivers a cleaner, faster, healthier, and chemical-free clean, more consistently than leading chemical or green spray cleaners.
Media Contact:
Lia Tapper
lia.tapper(at)zabadaclean(dot)com
+61401292323