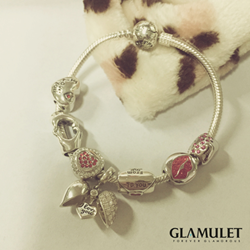 Forever Glamours Charms
(PRWEB) February 18, 2015
DIY charms, the popular jewelry trend in fashion today, are available from a new brand and leader in the DIY fashion market, Glamulet, including fresh, new charm designs and looks. The experts at Glamulet, who offer quality DIY charms and real 925 sterling silver at affordable prices, announced that these charms are available on their website.
"Girls are falling in love with new fashion jewelry trends of Glamulet," said the company's spokesperson. "The charms move freely and rotate slightly with your wrist's movement, creating an undeniable eye catching and stunning effect."
On the Glamulet website, customers are introduced to a wide variety of high-quality charms in a large number of themes, such as birthstones, Murano glass beads, charm sets and the very popular Swarovski Collection. All of the jewelry featured on glamulet.com, including their popular DIY charms, is available at very competitive prices.
"We are the official store who devotes itself to providing authentic Glamulet jewelry for jewelry lovers from all around the world," said the company's spokesperson. "We have experience in the field of Glamulet jewelry trading, and our final goal is to offer our customers various kinds of genuine sterling silver jewelry, including necklaces, beads, bracelets, rings and chains at the best price."
According to the website, Glamulet is considered a one-stop-shop for of a jewelry lover's needs. They carry all type of sterling silver, including real 925 sterling silver, 14k to 18k Gold, as well as chains, bracelets, gems and more. Their quality products are produced in the USA, Italy, China, Thailand and Mexico.
Glamulet aspires to become one of the top jewelry online shops in the world by providing the authentic, quality jewelry that enhances the look of their customers.
Talented designers create modern, timeless pieces that work perfectly with today's fashion and style. They also reinterpret existing classics by making them timeless, pure and balanced, in a way that is suitable for Glamulet and their customers.
About Glamulet
Glamulet is an online jewelry retailer that specializes in providing top-quality hand-finished and modern jewelry made from genuine materials at affordable prices. For more information, please visit http://www.glamulet.com