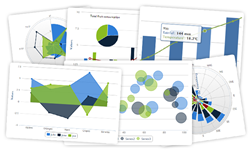 Interactive charting for your Java Web Applications
London (PRWEB) February 20, 2015
ZK Charts provides a complete API, which makes visualization of your data exceptionally easy. The intuitive API allows you to present your server-side data on the client as ZK Charts handles the client-server data for you transparently.
Visually, ZK Charts provides a collection of simple and trendy ready-to-use charts for users to slot into their applications wherever needed. For users who want that little bit of extra to create a more unique look and feel, ZK Charts also gives developers the flexibility to create their own themes to match the image of their own brands or just to get creative.
Excellent user experience is also a strong advantage of ZK Charts, which provides numerous features that enhance user experience when interacting with charts, including the ability to drill down data and zoom, as well as tool tips which can be used to display more information to users when hovering over the subsequent point and more.
The latest version - ZK Charts 2.0 brings more charting options to Java developers by integrating with Highcharts 4 with new features including:

3D charts support
Solid Gauge, Heat map and Pyramid charts
New themes
Flex Support to easily adjust layouts
For detailed information, please refer to the release note.
About Potix
Potix Corporation develops and supports ZK, the #1 Java based Ajax solution on SourceForge.net, the world's largest open source host. Innovation is the most driving force behind the growing Potix. Potix delivered the first Ajax framework to support Java and Android phones, the first embeddable Ajax spreadsheet, and the first to synergize the power of pure Java, markup and scripting languages.
ZK has more than 1,500,000 downloads since its first release in late 2005. ZK is deployed by a large number of Fortune Global 500 companies, including Barclays, Societe Generale, Swiss RE, eBay, Roche, Deutsche Bank, Sony, Sun Microsystems, Audi, EMC and Toyota, providing them with the ability to rapidly create rich Ajax enterprise level applications.