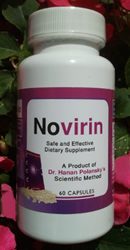 E-cigarette vapor contains free radicals, known toxins found in cigarette smoke and air pollution. (1)
Rochester, NY (PRWEB) February 18, 2015
"Infected with the herpes virus (HSV-1, or HSV-2)? The CBCD, which conducted two separate post-marketing clinical studies on the natural, antiviral formula of Novirin, recommends taking this effective herpes remedy to help the immune system target the latent HSV." - Greg Bennett, CBCD
E-cigarettes may be just as dangerous as traditional cigarettes, according to a study published in the prestigious journal, PLoS One. "E-cigarettes compromise the immune system in the lungs and generate some of the same potentially dangerous chemicals found in traditional nicotine cigarettes." (1) Senior author, Shyam Biswal wrote that "our findings suggest that e-cigarettes are not neutral in terms of the effects on the lungs. We have observed that they increase the susceptibility to respiratory infections in the mouse models. This warrants further study in susceptible individuals, such as COPD patients who have switched from cigarettes to e-cigarettes, or to new users of e-cigarettes who may have never used cigarettes." (1) Dr. Biswal is a professor in the Department of Environmental Health Sciences at the Bloomberg School.
Additionally, "E-cigarettes are an emerging public health concern as they gain popularity among current and former smokers as well as those who have never smoked, including teenagers. The perception that e-cigarettes pose little health risk is so entrenched that some smokers are switching from cigarettes to e-cigarettes." (1)
This research is important because, as the Center for the Biology of Chronic Disease (CBCD) points out, any damage to the immune system can lead to an increase in the number of latent viruses, and even reactivation of a virus from a latent state. These two effects may lead to a major disease. This is exactly what happens with the herpes virus. After an initial infection, it establishes a life-long latent infection, and can reactivate, causing a painful outbreak whenever the immune system is weakened. "For most, a sore appears, heals and is forgotten, although the virus remains latent just waiting for the right circumstances to come back." (See ScienceDaily.com from October 31, 2012) (2) The CBCD recommends that individuals infected with the herpes virus, and who smoke either traditional or E-cigarettes take Novirin to help maintain the health of their immune system. The formula of this natural herpes remedy was found to safely and effectively reduce HSV symptoms in two separate post-marketing clinical studies that followed FDA guidelines.
Learn more about herpes symptoms.
The formula of Novirin was tested by Hanan Polansky and Edan Itzkovitz from the CBCD in two clinical studies that followed FDA guidelines. The studies showed that the Novirin formula is effective against the herpes simplex family of viruses, which includes VZV. The clinical studies were published in the peer reviewed, medical journal Pharmacology & Pharmacy, the first, in a special edition on Advances in Antiviral Drugs. Study authors wrote that, "individuals infected with the (HSV-1) … reported a safe decrease in their symptoms following treatment…" (3) The study authors also wrote that, "we observed a statistically significant decrease in the severity, duration, and frequency of symptoms." (3)
Novirin can be ordered online through the product website, here: http://www.novirin.com
Novirin is a natural antiviral dietary supplement. Its formula contains five natural ingredients: Selenium, Camellia Sinesis Extract, Quercetin, Cinnamomum Extract, and Licorice Extract. The first ingredient is a trace element, and the other four are plant extracts. Each ingredient and its dose was chosen through a scientific approach. Scientists at polyDNA, the company that invented and patented the formula, scanned thousands of scientific and medical papers published in various medical and scientific journals, and identified the safest and most effective natural ingredients against latent viruses. To date, Novirin is the only natural antiviral product on the market with published clinical studies that support its claims.
"As part of their study, the researchers also determined that e-cigarette vapor contains "free radicals," known toxins found in cigarette smoke and air pollution. Free radicals are highly reactive agents that can damage DNA or other molecules within cells, resulting in cell death. Cigarette smoke contains 1014 free radicals per puff." (1)
"The U.S. Food and Drug Administration last spring announced that it was going to begin regulating e-cigarettes. E-cigarette sales are projected to overtake cigarette sales in the next decade, and teen use of e-cigarettes outpaces cigarette use, according to a recent survey released by the National Institute on Drug Abuse." (1)
The CBCD recommends that individuals stop smoking, regardless of the type of cigarette used. If a herpes infected individual cannot stop smoking, the CBCD recommends helping to maintain the health of the immune system by taking Novirin. The formula of this natural antiviral was designed to help the immune system safely and effectively target the latent HSV.
What other treatments are currently available for herpes infections?
"Two types of antiviral treatments against HSV are available: topical and oral. The treatments include penciclovir, acyclovir, famciclovir, and valaciclovir. However, their effectiveness is limited. For instance, a meta-analysis of five placebo-controlled and two dose comparison studies evaluated the effect of aciclovir, famciclovir or valaciclovir on symptoms. The meta-analysis showed that oral antiviral therapy decreases the duration and the associated pain of an outbreak by merely one day." (3). There is also the natural supplement Novirin, which has a formula that was designed to help the immune system target the herpes virus when it is in a latent form.
"Because smoking of any kind can expose the body to the negative effects of a latent viral infection, we recommend that individuals take Novirin. The formula of these natural antiviral products was designed to help the immune system target latent viruses." – Greg Bennett, CBCD
Interested individuals can view the studies published on the antiviral formula of Novirin here:http://www.scirp.org/journal/PaperInformation.aspx?PaperID=36101#.VNc8leaUf90 and http://www.scirp.org/journal/PaperInformation.aspx?PaperID=44234
All orders of Novirin are completely confidential, and no information is shared or sold to any third party. Privacy is assured.
References:
(1) Benham, B. "E-cigarettes an emerging public health concern, Johns Hopkins researchers say." Johns Hopkins News Network. Published February 4, 2015.
http://hub.jhu.edu/2015/02/04/e-cigarettes-immune-system
(2) ScienceDaily.com - "How and why herpes viruses reactivate to cause disease." - Federation of American Societies for Experimental Biology. Published on October 31, 2012.
http://www.sciencedaily.com/releases/2012/10/121031125516.htm
(3) Polansky, H. Itzkovitz, E. Gene-Eden-VIR Is Antiviral: Results of a Post Marketing Clinical Study. Published in September 2013. http://www.scirp.org/journal/PaperInformation.aspx?PaperID=36101#.VNsjjuaUf90