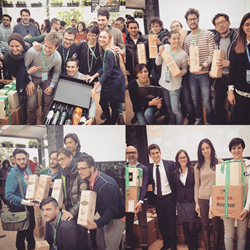 The trick lies in preserving the heritage and the values behind a bottle of wine" adds Francesco Zonin "but also in redefining the rules by communicating in innovative ways
Roncade, Italy (PRWEB) February 16, 2015
What do 300+ young professionals do on Saint Valentine's Day? They drink a lot of coffee, eat pizza and hack hack hack for 24 hours in a row trying to figure out the best way to combine digital technology and wine, a sector famous for its strong ties to history and tradition. No mean feat, but the need for innovation called for strong measures and has been effectively met by H-ack Wine, the first hackaton in Italy to be entirely dedicated to the wine sector organized by H-Farm in collaboration with Vinitaly International.
"How can we communicate wine in 2015?" was the opening remark of Francesco Zonin of Zonin 1821 winery, one of Italy's top wine producing estates, summing up in a few words the sector's constant need for innovation. The other three participating wineries were Tommasi Family Estates, Santa Margherita and Tenuta Col Sandago – Case Bianche.
This is true not only at a national level where wine consumption has heavily dropped in the past few years, but also abroad, in markets like China, where "Valdobbiadene", "Rondinella" and "bollicine" are difficult to pronounce let alone understand, as proven by Stevie Kim of Vinitaly International during her own presentation at the event (https://www.youtube.com/watch?v=Y8QhDVKuAKw). A Frenchman was also asked to pronounce the same words and, surprisingly enough, even he had difficulties.
"H-ack Wine was our second attempt to bring the Italian Wine producers into a Digital Laboratory and nowhere better than H-Farm. The briefs entailed addressing predominantly the internal wine market that is in serious difficulty. In order to engage the younger generation, though, especially the millenials, the language has to be not only more accessible but also modern and fun. Albeit this year all four wineries were from Veneto Region but we hope to contaminate the other wine producing areas in the future editions to come. Nevertheless, spending a couple of intensive days with a digital group such as H-Farm recharges my batteries to get ready for another upcoming showcase called Vinitaly," Kim commented playfully.
"The trick lies in preserving the heritage and the values behind a bottle of wine," added Francesco Zonin, "but also in redefining the rules by communicating in innovative ways. It has been one of the most unbelievable experiences in my life. More than 300 kids who had probably too many ideas and the beautiful thing was that none of them were related to wine, which was something I really liked. I am now looking forward to the next one which I hope will be even more incredible."
The choice amongst the different projects that were finally presented on Sunday morning proved to be a difficult one for all wineries involved.
Stefano Tommasi of Tommasi Family Estates and former Premier League football-player seemed quite comfortable when briefing the kids: he asked this year's hackers to create a digital wine list based on state of the art technology (such as Beacon, NFC, QRcode) to be used in restaurants with the aim of offering visibility to the world of Tommasi and increment its sales while offering, at the same time, added value to both the restaurants and consumers.
"H-farm for Tommasi has been an amazing experience," Elena Bortoletto the winery's Export Manager exclaimed enthusiastically at the end of the event. "We met lovely people with amazing ideas and it was challenging to choose the best one because the four groups that worked for us were so bright. Many good ideas and in the end we chose the best solution that could offer added value to the winery, to the restaurant, the distributors and the final consumers as well."
Fabrizio Zanetti, the CEO of Tenuta Col Sandago winery, on the other hand, looked to food and wine paring as a possible means to increase the winery's sales both in Italy and abroad: the challenge was to create a digital platform (mobile and/or web) capable of combining wine with either single ingredients or the main ingredients of a recipe, with an eye to the territory, city or country in which they are prepared. The aim was to satisfy the palate of local consumers, both at a national and international level.
"We are very proud of the work that has been done here today," he said, "Gourmeet" is the team that won the competition but other two of them were very very good, "Tastly" and "I Feel Wine". Congratulations to them all, it was very tough to make a choice."
Ettore Nicoletto, CEO of Vini Santa Margherita echoed the great enthusiasm shown by the others for the event and the projects that were presented at the end of the 24 hours. The group that was chosen, The42, was the one that best satisfied the winery's need to establish a relationship with real or potential clients present at its events: "We are very happy with the outcome. The guys who won developed a very creative idea and we hope we will be able to implement it very soon, perhaps at Vinitaly or maybe Expo. It's was very stimulating experience and we are happy to be one of the 4 wineries that want to digitalize the wine business."
A good number of the projects presented by more the 26 teams yesterday morning were based on gaming, contests and consumer profiling strategies to be carried out through mobile solutions, either as an app or a web-based program. Another common denominator was the frequent combination of wine with music, food and the mood of the App user.
"The craziest bit about this hackathon is that we asked all the groups to work continuously for 24hrs and then each group only got three minutes to pitch. My heart cringes when the timer goes off as I think they all would have liked a few more minutes to illustrate all the wonderful tools and gadgets they created overnight. It is truly amazing what they can come up with in only a few hours, just think what they can do in a few weeks or months. Several developed a full-blown app with interesting graphics as well as a marketing plan, very impressive indeed. There were even a couple of teenagers who built an augmented reality glass from a cardboard box and an iphone! Some serious talents and passion during h-ack wine this year. The entire hackathon has been very intense in every possible way including the trials and tribulations."
If you are curious to see how a wine hackathon works you can check out the videos on Youtube:
https://www.youtube.com/watch?v=XVr52bXOGYg
https://www.youtube.com/watch?v=89fHNPS88pA
Or visit http://www.vinitalyinternational.com/gallery
About:
Veronafiere is the leading organizer of trade shows in Italy including Vinitaly (http://www.vinitaly.com), the largest wine event in the world. The 47th edition of Vinitaly counted some 148,000 visitors (+6%), of which 53.000 were international attendees (+10%) visiting from 120 countries. On 95.000 square meters, 4.200 exhibitors welcomed trade professionals, media and producers alike. The next instalment of the fair will take place on 6th- 9th April 2014. The premier event to Vinitaly, OperaWine (http://www.vinitalyinternational.com) "Finest Italian Wines: 100 Great Producers", will unite international wine professionals on April 5th 2014 in the heart of Verona. Veronafiere also created Vinitaly International in 1998 to develop a global platform for the promotion of companies in the Italian wine and food sectors.
H-FARM is a digital platform created with the intention of helping young entrepreneurs in breaking the mold by launching initiatives based on original business models in the Internet sector and to sustain the transformation of Italian companies in a digital perspective.
The business accelerator model takes an average of 36 months, during which H-FARM invests in and supports the startup growth process. H-FARM is based in the Ca' Tron farming estate (just in front of Venice lagoon), Seattle (USA), Mumbai (India) and London (UK).
In the first nine years, H-FARM has invested approximately € 15.4 million in 54 innovative companies, creating over 350 new jobs. The aggregate turnover of H-FARM companies exceeds € 30 million. Between 2014 and 2018 they plan to invest a further €10 million.